June 9, 2018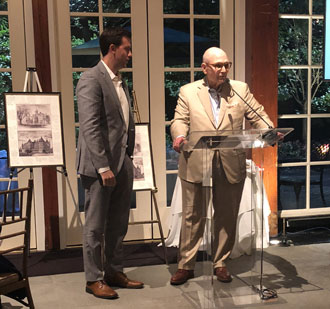 Fifth-year neurosurgical resident Thomas Link, MD, has been named the winner of the 2018 Michael L. J. Apuzzo Resident Literature Award for Creativity and Innovation for "Middle Meningeal Artery Embolization for Chronic Subdural Hematoma: A Series of 60 Cases." The Apuzzo Award, established in 2017, recognizes outstanding work by a Weill Cornell Medicine neurosurgery resident that most exemplifies original thinking and creativity.
Dr. Link's paper explores an innovative procedure for the treatment for chronic subdural hematomas, pioneered at Weill Cornell Medicine by Dr. Jared Knopman, the senior author on the paper (see news report about the procedure). Middle meningeal arterial (MMA) embolization allows a neurosurgeon to replace open surgery with a minimally invasive procedure to treat a pool of blood that forms between the brain and its protective covering (the dura). The success of the procedure also demonstrates that subdural hematomas involve arteries, not veins. Subdurals have long been understood to be venous (meaning that they are created from and supplied by blood from veins, not arteries).  
"Unique ideas drive progress," says Dr. Apuzzo, for whom the award is named. "This work represents a novel concept that challenges a centuries-old notion. It truly epitomizes the spirit of this award!"  (See A Storm of Ideas: Dr. Apuzzo Talks About the Award Named for Him.)
Thomas Link was awarded his M.D. from the Johns Hopkins University School of Medicine in Baltimore. Dr. Link, who also holds a Master's Degree in Biomedical Engineering from Johns Hopkins, assisted in the development of microcapsules to improve MRI and other imaging modalities.
In addition to Dr. Link and Dr. Knopman, co-authors on the paper are Srikanth Boddu, MD; Stephanie Paine, NP; and Hooman Kamel, MD.