August 2, 2019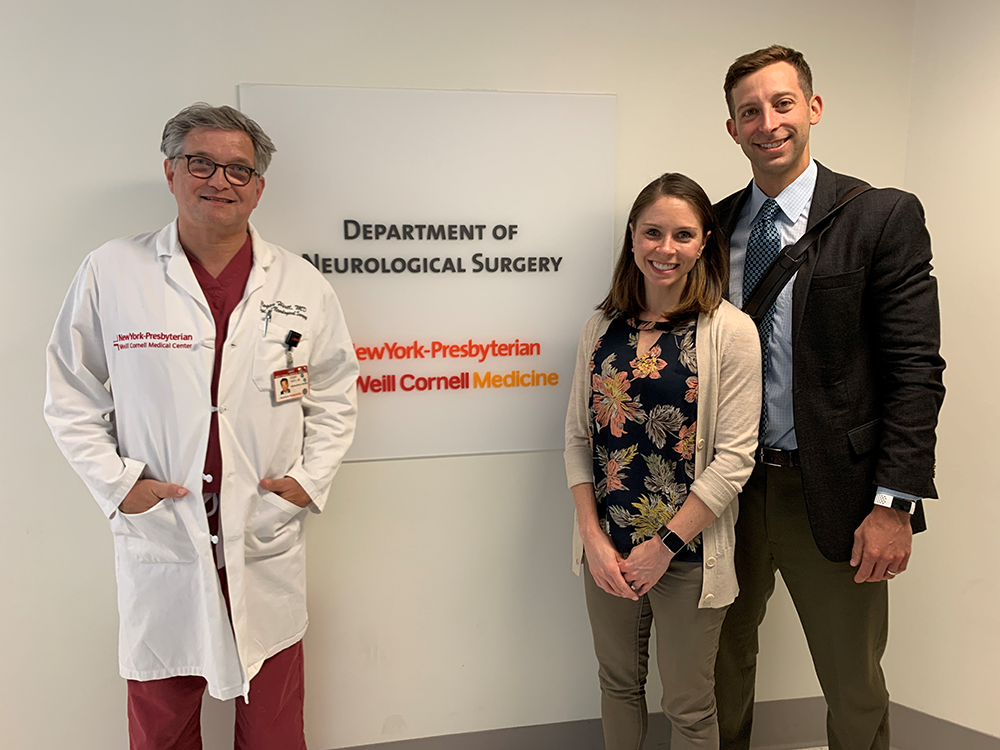 Neurosurgeon Scott Zuckerman, MD, and his wife, Autumn Zuckerman, PharmD, have arrived in Dar es Salaam, Tanzania, where Dr. Zuckerman will temporarily assume the duties of the Global Health Neurosurgery Fellow. Dr. Scott Zuckerman will be based in the Muhimbili Orthopaedic Institute (MOI), where he will evaluate patients, perform surgery, conduct research, and train Tanzanian surgeons and medical staff in the care of neurosurgical patients.
The Global Health Neurosurgery Fellowship is a one- or two-year position; previous fellows have included Dr. Maria Santos, Dr. Andreas Leidinger, and Dr. Albert Lazaro. Dr. Zuckerman, who recently completed his neurosurgery residency at Vanderbilt University Medical Center, was named interim fellow until the next neurosurgical fellow arrives this winter.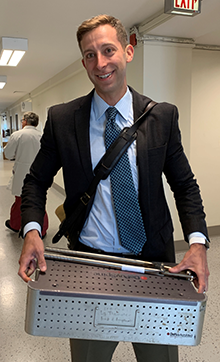 Dr. Zuckerman became interested in global neurosurgery from some of the work of his outstanding colleagues at Vanderbilt, including Dr. Michael Dewan, Dr. Ahilan Sivaganesan, and Dr. Chris Bonfield. In August 2018, Scott and Autumn Zuckerman visited Tanzania for the first time, along with Vanderbilt's neurosurgery chairman, Dr. Reid Thompson. The experience left a lasting impression on both Zuckermans. They witnessed the significant need for neurosurgical care and also saw the passion, energy, and work ethic of the Tanzania neurosurgeons, especially the residents at Bugando. Presented with the option to return for a longer period of time, and the opportunity to join the outstanding team led by Dr. Roger Härtl, it was an easy and exciting decision for the couple to make.
While at MOI, Dr. Scott Zuckerman's principle effort will be to help implement the MOI Spine Trauma Protocol, a multidisciplinary effort to reduce the time between hospital admission and the operating room in patients with traumatic spinal injuries. Recent research at MOI, led by previous fellow Dr. Leidinger, found that patients with incomplete spinal cord injuries (SCI) suffered major delays to surgery – sometimes weeks – due to an inability to pay for necessary spinal implants. Thanks to a grant from Depuy-Synthes that provided spinal instrumentation for approximately 40 operations, the team at MOI has started to implement the protocol and prioritize operative treatment based on patient clinical status rather than ability to pay. The department at MOI, led by Dr. Hamisi Shabani, has promoted the protocol throughout the hospital among neurosurgeons, orthopedic surgeons, anesthesiologists, and nurses.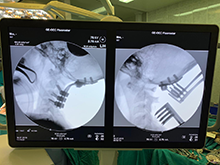 Early results following protocol implementation have been promising. Of the seven patients enrolled, the three incomplete SCI patients went to the OR after an average of just 1.3 days from admission. Support for the protocol is growing throughout MOI and Dr. Zuckerman is hopeful it will become standard of care. This work was only made possible by the robust research infrastructure led by Dr. Härtl, the previous work of Dr. Leidinger, and the ongoing efforts of the MOI neurosurgery residents to maintain the database.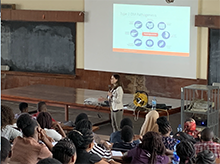 Dr. Autumn Zuckerman, who is the program director of Health Outcomes and Research at Vanderbilt Specialty Pharmacy, has also integrated herself into the MOI community and Muhimbili University Health and Allied Sciences (MUHAS). She has worked with OR pharmacists to dispense medication and is leading a research project showing the cost effectiveness of pharmacists in the OR. She is teaching in the Clinical Pharmacology course for medical, nursing, and other health professionals at MUHAS as well as the Masters of Science in Clinical Pharmacology courses. She is also using her training in HIV and hepatitis to lead several research efforts on these topics through MUHAS, Muhimbili National Hospital, and the CDC.
Throughout MOI, there is a growing interest in research, as physicians throughout the institution realize its potential to improve care and lobby for resources. Given their similar interest in research, Scott and Autumn are meeting weekly with the Research Department at MOI, led by radiologist Dr. Joel Mibazi, to improve the practice of research and begin new studies.      
Dr. Härtl founded and manages the Tanzania Neurosurgery Project, now in its tenth year. The project aims to make a meaningful difference in patient outcomes by training, guiding, and developing local health care providers. Global fellows and MOI staff engage in weekly Skype meetings with Dr. Roger Härtl and his team at Weill Cornell Medicine, and an exchange program brings Tanzanian surgeons to New York for short-term assignments in which they learn contemporary neurosurgical techniques and the practice of evidence-based medicine. An annual course organized by Dr. Härtl brings a dozen or more experts from the United States and Europe each fall to provide hands-on training to local surgeons, nurses, and other providers.
Dr. Zuckerman earned his medical degree at Vanderbilt University and also holds an MPH in Epidemiology from Harvard University. He has won numerous awards, including the ThinkFirst Injury Prevention Abstract Award from the American Association of Neurological Surgeons. He also serves as a Lieutenant Commander in the United States Navy Reserves.  After returning from Tanzania, Dr. Zuckerman will complete a fellowship in Complex Spinal Deformity Surgery at Columbia University.