August 24, 2016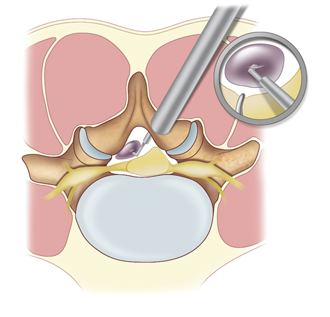 The leading journal Operative Neurosurgery today published a major paper by Dr. Roger Härtl and his colleagues, summarizing important findings from more than a decade of clinical research on minimally invasive surgery (MIS) for spine conditions. The paper, "Ten-Step MIS Lumbar Decompression and Dural Repair through Tubular Retractors," documents the detailed steps of four MIS procedures with a review of clinical outcomes in 331 patients. It was published electronically today ahead of print (see the paper here).    
The paper covers surgery to repair four of the most common lumbar conditions (disc herniations, foraminal compression with unilateral radiculopathy, spinal stenosis, and synovial cysts) and four MIS techniques to repair them (microsurgical tubular discectomy, microsurgical tubular foraminotomy, microsurgical tubular laminotomy, and microsurgical resection of lumbar synovial cysts, respectively). The use of MIS techniques utilizing tubular retractors for these conditions as well as for dural repair has become widespread, but there has not previously been a single source describing them in detail and documenting their indications and contraindications, limitations, and complication management. Dr. Härtl's paper fills that gap and provides an important resource for effectively teaching the procedures and facilitating the learning curve.
"I am so proud that our work was accepted for publication in this prestigious journal," says Dr. Härtl. "My team and I have been working for years on perfecting our tubular micro-decompression techniques for lower back conditions. The resulting paper validates what we have learned, which is that minimally invasive options produce excellent outcomes — equal to the outcomes of complex open fusion surgery, but with less scarring, reduced pain, and faster recovery times. I hope the paper is a valuable teaching resource for residents and surgeons worldwide, with whom we are delighted to share our findings."
The review documents clinical results that include no postoperative complications associated with cerebrospinal fluid (CSF) leaks, one infection, and 17 instances (5.1%) of delayed fusion.
Another paper by Dr. Härtl's team, "Lumbar Spinal Stenosis Associated With Degenerative Lumbar Spondylolisthesis: A Systematic Review and Meta-analysis of Secondary Fusion Rates Following Open vs Minimally Invasive Decompression," has also been accepted for publication in Neurosurgery. That new paper, which provides support for the use of MIS techniques to avoid complex open fusion surgery, will be published at a later date.
More about spine surgery at Weill Cornell Medicine
Illustration by Thom Graves, CMI