Moving Towards a Cure
You are here
Hundreds of runners and walkers take off to help fund our Children's Brain Tumor Project.
On a glorious summer morning under the historic Unisphere in the old World's Fair Grounds, hundreds of runners and walkers hit the trail in a combination 5K/10K/1-mile family walk to support brain tumor research. The event was the second annual Miles for Hope "Moving Towards a Cure" race/walk, which benefits the Weill Cornell Pediatric Brain and Spine Center's research into rare and inoperable brain tumors of childhood and adolescents.
Through our partnership with Miles for Hope, the Weill Cornell Pediatric Brain and Spine Center raises much-needed funding for the Children's Brain Tumor Project. This innovative project combines the lab research and clinical trials of Dr. Mark Souweidane, who is investigating novel delivery techniques for brain tumor drugs, and Dr. Jeffrey Greenfield, who is working on genomic sequencing and personalized medicine. Together, Drs. Souweidane and Greenfield can deliver a one-two punch that identifies the best therapeutic agent for a patient's specific tumor and then gets that drug to the tumor site directly, without subjecting a child to the toxic effects of systemic chemotherapy. Find out more about the Children's Brain Tumor Project.
This year's Miles for Hope event included some special features:
Dr. Souweidane presented the first-ever Rainbow Award to Caitlin Downing, a 5-year-old Florida girl who was the very first patient treated in his innovative DIPG clinical trial testing the safety of convection-enhanced delivery (CED). Caitlin's mom and 10-year-old sister Courtney were on hand to accept the award for Caitlin, who passed away in November. The Rainbow Award honors Caitlin for the courage she showed throughout her illness, as well as the family's commitment to helping Dr. Souweidane find a cure. Find out more about the Rainbow Award.
Two young Ambassadors represented the advanced capabilities of the Weill Cornell Pediatric Brain and Spine Center. Find out more about Joshua Fiala and Sean Ries.
A 6-foot-long Tribute Board allowed participants to honor loved ones who have battled brain tumors.
Awards were presented for best times, greatest total fund-raising, and largest teams.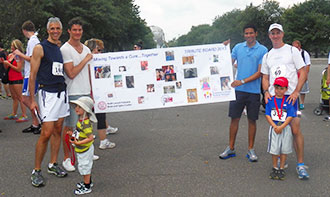 Team Weill Cornell was joined by Team SuperTy, organized by the family of Ty Louis Campbell, who battled the rare tumor AT/RT for two years before passing away in 2012; Team Tyler, representing Tyler Ulahel, one of last year's Ambassadors; and Team Sean, representing this year's Ambassador; as well as many other teams who ran in support of brain tumor research.
Watch video clips of the event on YouTube 
See a gallery of photos from the event
Plus... See photos contributed by Lois Silver Fiala, the mother of event Ambassador Joshua Fiala