January 14, 2019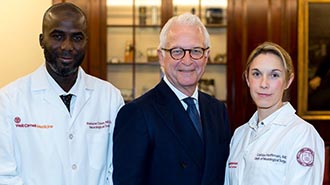 The Weill Cornell Medicine Brain and Spine Center is proud to be participating in National Mentoring Month. The embedded culture of mentoring in the neurosurgery program has always been in line with the Weill Cornell Medicine commitment to "Care. Discover. Teach." 
The senior neurosurgeons of the Brain and Spine Center have a long tradition of helping develop the careers and knowledge of residents and junior neurosurgeons. In fact, one of our younger faculty members, Dr. Jared Knopman, came up through our residency program being mentored by senior faculty and is now mentoring residents himself—one in particular being Dr. Benjamin Rapoport..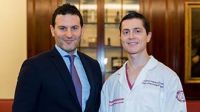 Dr. Knopman with Dr. Rapoport
Dr. Knopman says. "Dr. Rapoport and I developed our relationship during his fellowship training in interventional neuroradiology... Mentorship is a cornerstone of the academic training environment at Weill Cornell, & through this symbiosis, medical innovation is often conceived." Dr. Knopman himself credits Dr. Stieg for being a great mentor as well, saying, "He challenged me to upend traditions and develop new techniques—all in the name of advancing better treatment to patients," says Dr. Knopman. He also praises the residency he was in, saying, "The cohesive, familial network of residents and attending physicians attracted me to coming here in the first place," Dr. Knopman says, "I want that culture and philosophy to remain intact."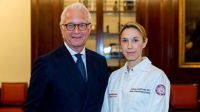 Dr. Stieg with Dr. Hoffman
Dr. Hoffman extends her gratitude, saying, "Dr. Stieg's thoughtful, forward-thinking, challenging, and human approach toward mentorship has continually guided my ability to push my career development in creative, innovative, and effective ways. "Dr. Stieg was recently featured by Weill Cornell Medicine for his mentorship of Drs. Caitlin Hoffman and Babacar Cisse. He says, "Helping Drs. Hoffman & Cisse focus on and achieve their professional goals is one of the most meaningful activities I perform. Their accomplishments mean better patient outcomes and changes in the application of the art of neurosurgery."
Please visit back throughout National Mentoring Month as we add more stories from mentors and mentees. You can also follow the entire Weill Cornell Medicine thread with the #Every1Mentor1 hashtag on Twitter.