New Clinical Trial to Test Intra-arterial Infusion for Malignant Pediatric Brain Tumors
You are here
New Clinical Trial to Test Intra-arterial Infusion for Malignant Pediatric Brain Tumors
Multi-year study will test bevacizumab and cetuximab for glioblastoma multiforme, DIPG, gliomatosis cerebri, and other high-grade gliomas
The Weill Cornell Pediatric Brain and Spine Center is now enrolling young patients in a new clinical trial testing intra-arterial infusion of chemotherapy drugs in children with certain recurrent brain tumors.  Investigators are hopeful that super-selective intra-arterial cerebral infusion (SIACI), which earlier studies have shown to be safe in adults, will be safe and effective in children and adolescents as well, improving the outlook for pediatric patients with recurrent brain tumors.
Traditional chemotherapy is delivery intravenously, into systemic veins that carry drugs throughout the entire body. Unfortunately, the body's natural blood-brain barrier prevents much of the drug from leaving the bloodstream and crossing into the brain to attack a tumor. Ongoing studies at the Weill Cornell Brain and Spine Center have been studying intra-arterial delivery of cetuximab (brand name Erbitux) and bevacizumab (brand name Avastin), testing whether these drugs infused into arteries that supply the tumors rather than systemic veins can deliver more tumor-fighting power directly to the site of the malignancy.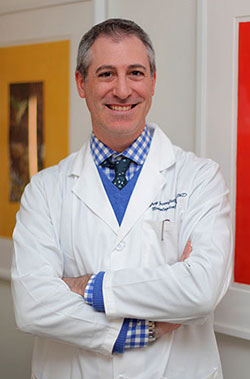 "We are excited to initiate this study," says Dr. Jeffrey Greenfield, co-director of the Weill Cornell Children's Brain Tumor Project and Principal Investigator of the new trial. "There are currently very few options for children with recurrences of malignant brain tumors. Together with the roll-out of our advanced precision medicine approach to molecularly characterize each and every tumor, this new delivery route allows not only targeting drugs to be precisely selected, but also precisely delivered. Together, these approaches hold the promise of improving survival times and quality of life for hundreds of children every year."
New treatment options for pediatric brain cancers are critical; more than 2,000 children a year in the United States are diagnosed each year with some kind of central nervous system malignancy, and the prognosis is often quite poor.  Children with high-grade gliomas always experience a recurrence of their cancer after original treatment, and most survive less than three years from original diagnosis.  
In this trial, surgeons will first disrupt the blood-brain barrier by infusing the patient with Mannitol, a process shown to be safe in thousands of pediatric and adult patients. A single infusion of cetuximab and bevacizumab follows, fed into a hair-thin catheter in the patient's leg and threaded gently up to the tumor's location in the brain. The interventional neuroradiology (INR) specialists at the Weill Cornell Brain and Spine Center have developed expertise in this intra-arterial infusion and are sub-investigators in this new trial.
This trial is expected to enroll approximately 30 patients and last until January 2018. Patients will be monitored for any evidence of toxicity from the drug as a measure of the procedure's safety.
Find out more about this clinical trial, including criteria for inclusion, at clinicaltrials.gov  or by contacting Dr. Greenfield at jpgreenf@med.cornell.edu
About the Children's Brain Tumor Project
The Weill Cornell Children's Brain Tumor Project, co-directed by Dr. Mark Souweidane and Dr. Jeffrey Greenfield, is focused on finding new treatment options for children diagnosed with DIPG, gliomatosis cerebri, and other rare and inoperable brain tumors.  The Project is currently conducting a clinical trial of interstitial infusion (convection-enhanced delivery) of a therapeutic agent for DIPG. Find out more about that clinical trial.
Find out more about the Children's Brain Tumor Project.
Find out more about brain tumor clinical trials for adults.