May 18, 2023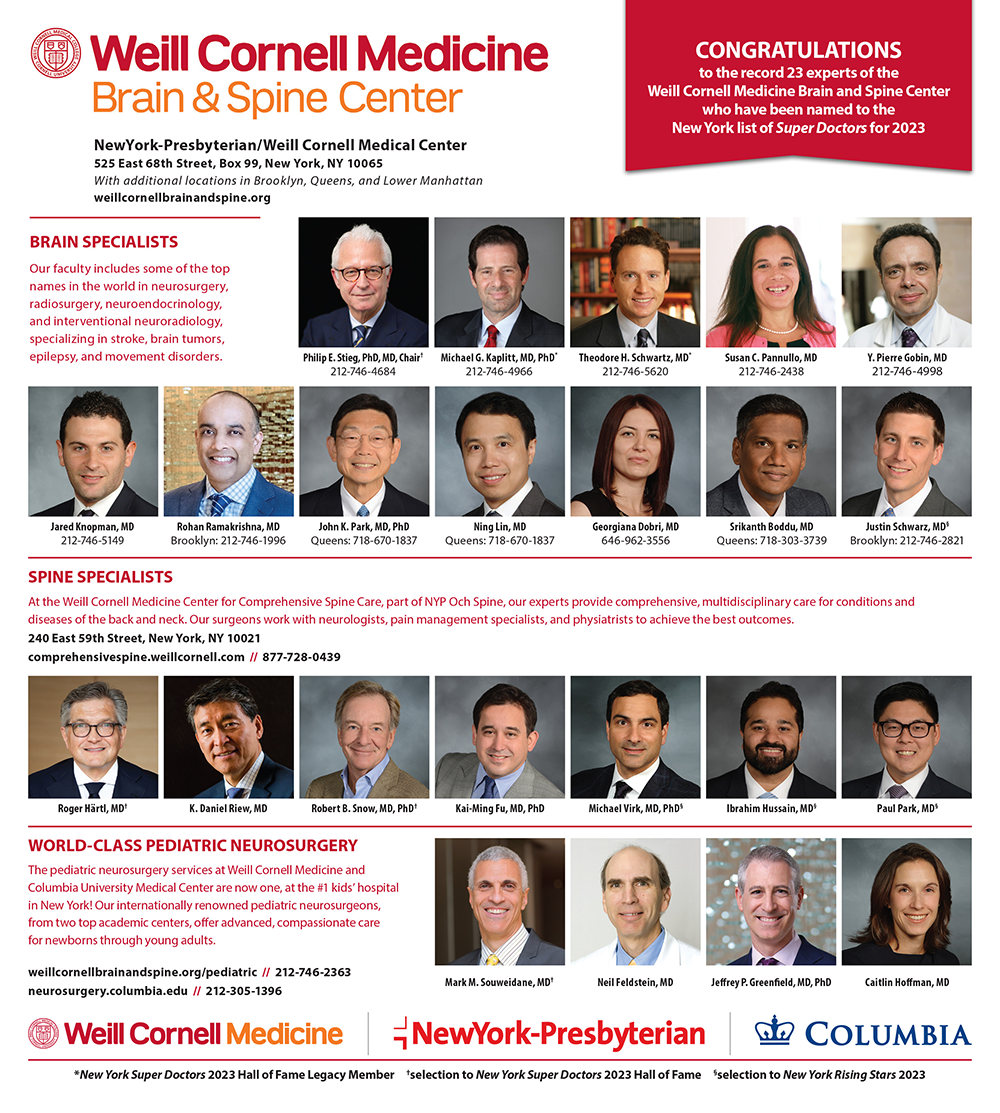 A record-breaking 23 faculty members from the Weill Cornell Medicine Brain and Spine Center were named to the 2023 list of New York SuperDoctors, published as a supplement to The New York Times Magazine on May 14, 2023. This list of outstanding physicians, assembled based on peer nomination, credentials, and achievement, is an elite roster of physicians deemed to be the very best in their field.
In addition to professor and chairman Philip E. Stieg, Phd, MD, this year's list includes all four vice chairs – Dr. Mark Souweidane, Dr. Michael Kaplitt, Dr. Jeffrey Greenfield,   and Dr. Theodore Schwartz – as well as many of our other experts in brain, spine, and pediatric neurosurgery, including those in Manhattan, Brooklyn, and Queens.
Dr. Srikanth Boddu
Dr. Georgiana Dobri
Dr. Neil Feldstein
Dr. Kai-Ming Fu
Dr. Y. Pierre Gobin
Dr. Roger Härtl
Dr. Caitlin Hoffman
Dr. Jared Knopman
Dr. Ning Lin
Dr. Susan Pannullo 
Dr. John Park
Dr. Rohan Ramakrishna
Dr. K. Daniel Riew
Dr. Robert Snow
This year's honorees also include four Rising Stars (those in practice less than ten years):
Dr. Justin Schwarz
Dr. Ibrahim Hussain
Dr. Paul Park
Dr. Michael Virk
Drs. Stieg, Souweidane, Kaplitt, Schwartz, Härtl, and Snow were also honored as members of the New York SuperDoctors Hall of Fame for their 10 consecutive years of being selected to the list.
The annual list of SuperDoctors published each May in The New York Times Magazine and available online year round.