April 11, 2014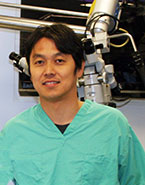 Yu Moriguchi, M.D., Ph.D., a spine research fellow with Dr. Härtl's team, was named winner of a research presentation award at the 12th Annual AOSpine North America Fellows Forum held in Banff, Canada. Dr. Moriguchi's presentation was titled "In vivo repair of rat annulus fibrosus defects using high-density collagen gels" and is a part of the spine research team's work with innovative approaches to intervertebral disc repair.
In his presentation, Dr. Moriguchi reported on research in which high-density collagen gels cross-linked with riboflavin were injected into damaged rat-tail spines to test the effectiveness of the material in reducing disc degeneration. The results indicated that untreated discs in the control group show signs of degeneration, while treated discs retain significant disc height and show minimal signs of degeneration. The study concludes that injection of the high-density collagen gel with riboflavin can repair disc defects, reduce disc degeneration, and maintain disc function in rats.
This new award is one of several recently presented to members of Dr. Härtl's team for its innovative work using biomaterials for spine repair.  Dr. Peter Grunert was recently awarded an Orthopedic Research Society New Investigator Recognition Award for this work, and the research won the 2014 Ronald Apfelbaum Research Award at the annual meeting of the AANS/CNS Section on Disorders of the Spine and Peripheral Nerves.