July 27, 2021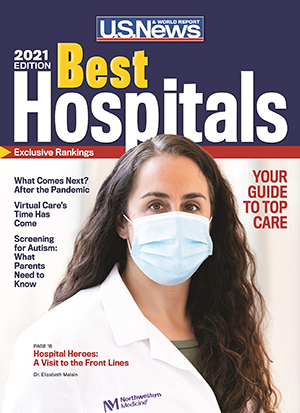 The 2021 U.S. News and World Report Best Hospitals rankings are out, and Weill Cornell Medicine Brain and Spine Center has a lot to be proud of. We are part of the #1 hospital in New York, NewYork-Presbyterian, and together with our colleagues at Columbia University we are now ranked as the #2 neurology and neurosurgery program in the United States. Our Ivy League neuro program is #1 in New York, #1 on the East Coast, and second only to UCSF in the nation.
For these annual rankings, U.S. News looked at more than 1,200 hospitals in the United States to evaluate their programs and outcomes in brain and spine conditions. Our program received Excellent ratings in outcomes, advanced technologies, nurse staffing, and patient services, among others.
We work hard to deliver the very best in neurosurgical care to our patients, offering world-class care from top faculty members and advanced practice providers. We are always at the leading edge of new technology and techniques in minimally invasive brain and spine surgery, always with patient safety and quality of life at the forefront of our mission. We don't do what we do in order to make all those top doctors, top hospitals, and top programs lists – but it's gratifying to be recognized for the excellence we deliver every day.