July 15, 2014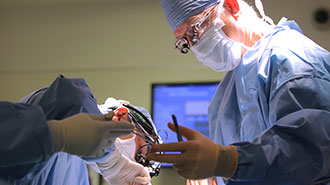 The team here at the Weill Cornell Brain and Spine Center has always been proud of being a part of the number-one hospital in New York, and a few years back we were even prouder to be ranked as the number-four neurology/neurosurgery practice in the nation. In 2013 we moved up to the number-three slot, and this year we are ranked second in the nation for neurology and neurosurgery. We are now the best neurology/neurosurgery practice in New York, the best in the northeast, and the best east of the Mississippi River.
Weill Cornell neurosurgeons are nationally known, and in many cases world-renowned, specialists in their fields, which include brain tumors, cerebrovascular disorders such as aneurysms and AVMs, spine conditions, epilepsy, movement disorders, and pituitary and skull base tumors. Thanks to the world-class facilities here at NewYork-Presbyterian Hospital, our neurosurgeons are able to utilize the very newest in technology and techniques in minimally invasive brain and spine surgery. They are also sought-after lecturers and speakers at continuing medical education events around the world, where they keep neurosurgeons and other health care providers up to date on best practices. In many cases they have authored the textbooks used daily by medical students and neurosurgical residents in their training.
NewYork-Presbyterian Hospital, ranked as the best hospital in New York, was also named to the US News Honor Roll for the fourteenth year in a row. The Honor Roll includes only 17 hospitals in the United States (out of more than 5,000) and recognizes only those facilities that demonstrate excellence across many specialties. NewYork-Presbyterian demonstrates national excellence in 15 adult specialties (including neurology/neurosurgery) and 9 pediatric specialties, placing sixth on the national honor roll and first in the New York metro area. The hospital was one of only 144 facilities in the country to be ranked in even one of the specialties considered.