June 13, 2013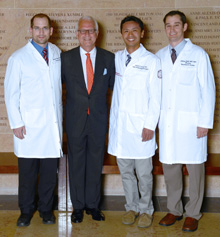 The Brain and Spine Center has accepted three new medical school graduates into its prestigious residency program in neurological surgery. The highly competitive program accepts two or three new residents each year from among hundreds of applications. The post-graduate year 1 residents (PGY-1's) arrive this month to embark on an intensive seven-year training program to become neurological surgeons and neuroscience researchers, studying under some of the top brain and spine surgeons and researchers in the world today.

Ibrahim Hussain received his M.D. in May from the University of Medicine and Dentistry of New Jersey – New Jersey Medical School, where among other distinctions he was the recipient of the Doris Duke Research Fellowship Award. For that fellowship, Hussain worked with Dr. David Gutmann at the Washington University School of Medicine in St. Louis to help develop the Neurofibromatosis Genome Project and Neurofibromatosis Patient Registry Initiative.  As a research fellow at New Jersey Medical School's Department of Neurosurgery, Hussain evaluated cerebral aneurysms to identify risk factors for rupture.

Thomas Link was awarded his M.D. in May from the Johns Hopkins University School of Medicine in Baltimore. Link, who also holds a Master's Degree in Biomedical Engineering from Johns Hopkins, worked as a research assistant in the laboratory of Dr. Alfredo Quiñones-Hinojosa, where he analyzed databases of patients with brain tumors to evaluate survival times, time to recurrence, and other factors. For his graduate work in biomedical engineering, Link assisted in the development of microcapsules to improve MRI and other imaging modalities.

Benjamin Rapoport graduated in May with an M.D./Ph.D.  from Harvard Medical School.  Rapoport, who also holds a Ph.D. in Electrical Engineering and Computer Science from MIT, was awarded the Martha Gray Research Award for Biomedical Devices at Harvard as well as a Medical Engineering Fellowship from the Massachusetts Institute of Technology & Center for Integration of Medicine and Innovative Technology (MIT-CIMIT). As a research assistant at DARPA, Rapoport designed and built electrochemical power sources (glucose-based fuel cells) for biologically implantable electronic devices.
As the three new residents arrive, the current Chief Residents complete their 7-year program and graduate as fully trained neurosurgeons. The Weill Cornell Brain and Spine Center congratulates Dr. Christoph Hofstetter, Dr. Lewis Leng, and Dr. William Cobb on their accomplishment and wish them the best in their careers.