Weill Cornell Medicine to Lead National Multicenter Clinical Trial for Subdural Hematoma Embolization
You are here
Weill Cornell Medicine to Lead National Multicenter Clinical Trial for Subdural Hematoma Embolization
Dr. Jared Knopman, who has been a pioneer in the use of middle meningeal artery embolization for subdural hematomas, will lead a new FDA-approved clinical trial of the procedure. The clinical trial, called Embolization of the Middle Meningeal Artery With ONYX™ Liquid Embolic System for Subacute and Chronic Subdural Hematoma (EMBOLISE), is based on the groundbreaking work Dr. Knopman has done performing embolization for subdural hematomas.
Subdural hematomas are a common injury in the elderly, who can develop these brain bleeds after even minor injuries. In a patient with a subdural hematoma, blood pools under the dura (the protective covering over the brain), putting pressure on the brain. The traditional solution had been open surgery, in which a portion of the skull was removed and the dura opened, to allow a neurosurgeon to drain the hematoma. Many older patients, however, are not good candidates for surgery, with its inherent risks in a fragile patient population. The patients most vulnerable to these hematomas, then, were also the least able to benefit from surgical repair.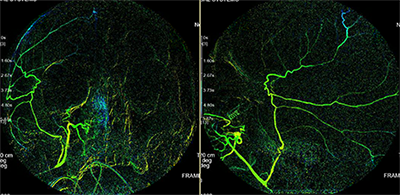 Reconstructed angiograms of a patient who received embolization of the middle meningeal artery; before embolization (above) and after embolization (below)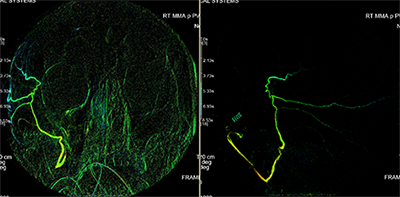 The minimally invasive embolization technique, which can stop the bleeding from the inside, requires no opening in the skull or dura. A neurosurgeon trained in interventional radiological techniques threads a tiny catheter from needle stick in the wrist or the thigh up to the site of the hematoma, then cuts off its blood supply by infusing embolic material. Dr. Knopman published a case report of the first 60 patients treated using the embolization technique in December 2019 and has treated a total of more than 300 patients to date; the 91% long-term success rate paved the way for FDA approval of this national randomized trial. 
The trial is sponsored by Medtronic, the manufacturer of the Onyx polymer that will be used to stop the bleeding. More about the clinical trial
The MMA embolization procedure was recently featured in NewYork-Presbyterian's "Advances in Neurology and Neurosurgery" newsletter: MMA Embolization: A Novel Approach to Managing Subdural Hematoma