Keeping Your Brain Healthy During the Pandemic
You are here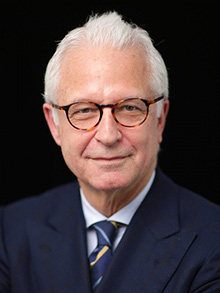 Friday, March 27, 2020 - 17:15
These are unprecedented times, and we are facing unimaginable challenges. Those on the front lines of the pandemic – the health care heroes who are saving lives every day, and losing that fight for far too many patients – are enduring unthinkable levels of stress in addition to the physical dangers they face each day.
While it cannot compare to what an emergency room nurse or doctor is experiencing, there are so many other people right now whose anxiety levels are through the roof. The virus, and the fear of the unknown, are primal threats that have us all worrying:
Have I been exposed to the virus?
Will I be okay, or get sick?
What happens to my kids if I'm too sick to care for them?
What can I do to protect my elderly parents?
Will I lose my job?
Is it safe to even leave the house?
As a father, a physician, and a department chairman, I share many of those fears, and I have deep sympathy for those whose state of stress is constant. As a neurosurgeon and an expert in brain health, I also know that our state of heightened anxiety is a terrible thing for our most important organ.
A jolt of the stress hormones cortisol and adrenaline is a good thing in an emergency – it gives you the surge of energy you need to jump out of the way of a speeding car, for example – but our brains are not wired to flourish under constant threats. Once the car passes and you are safely on the curb, the cortisol subsides, and with it your heart rate and blood pressure decrease again and your brain returns to its normal, healthy state.
In times like these, when the stress is constant, a prolonged excess of stress hormones can actually do damage to your brain, decreasing connectivity and killing off brain cells. It can affect memory and cognitive function, and even put you at risk for stroke and depression. Individuals who suffer from long-term stress-related illnesses like PTSD show differences in the volume of gray matter vs white matter and the size of the amygdala and hippocampus when compared with the brains of those not exposed to trauma. Stress is serious indeed.
When the pandemic eventually passes, as it will, we want to emerge into the new day in the best health possible, so I urge you to protect your brain during this time. I take time every day – and was doing so even before this new crisis arose – to manage my stress levels: I meditate, I do yoga, and I exercise. You don't need any special expertise to do deep breathing, or take a walk. There are free apps that can help you learn to meditate, and free YouTube videos that can show you basic yoga positions. It has probably never been more important to adopt these habits.
I also make sure I get enough sleep, eat a healthy diet, and keep socially active. That last one is difficult during a time of "social distancing," but I encourage you to phone, text, FaceTime, or otherwise to stay close with family and friends. Their support can do you a world of good, and you can help them as well. I encourage you to visit my Guide to Managing Stress, which is part of my free downloadable Guide to Optimal Brain Health.
I wish good health to you and your loved ones during this difficult time, as well as good brain health always.
Reminder: We are here for you during this crisis. We are performing urgent and emergency surgeries and making appointments for essential visits in person, and for non-essential visits using Video Visits. Please call (212) 746-4684 to make an appointment.