Leaders in Minimally Invasive TLIF Spine Surgery
You are here
Leaders in Minimally Invasive TLIF Spine Surgery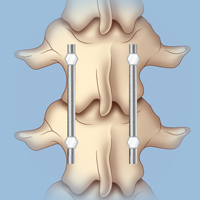 In a spinal fusion, the vertebrae are connected with rods and screws to stabilize the spine and reduce pressure on nerves.
The neurosurgical team at the Weill Cornell Medicine Spine Center are world leaders in minimal-access spine surgery, including transforaminal lumbar interbody fusion (TLIF). TLIF is an advanced minimally invasive procedure for spinal fusion, in which vertebrae are stabilized to take pressure off nerves and relieve back pain. It is a minimally invasive alternative to older, more invasive methods of spinal fusion, which were more painful and required longer recovery periods. TLIF is performed through two very small incisions in the back, so patients experience less pain, shorter recovery times, and fewer surgical complications.
Spinal fusion becomes necessary when two or more vertebrae are compressed — this could be due to a degenerative spine condition such as a herniated disc, spondylolisthesis, or arthritis, or to an injury. The loss of proper spacing and cushioning between vertebrae can lead to debilitating back and leg pain that can only be resolved through surgery. Spinal fusion surgery restores the space between the vertebrae and fuses the bones in place using instrumentation (rods and screws) to hold them in position and bone grafts (a slurry of bone material that hardens over time) to permanently prevent the vertebrae from moving.
Recent advances in spinal fusion surgery include the use of microscopes and tubes to minimize tissue trauma, as well as the introduction of computerized image guidance, also called surgical navigation. In a TLIF procedure, intra-operative navigation assists the neurosurgeon in optimal placement of the screws to avoid injury to delicate nerve tissue. The combination of a small incision, advanced computer navigation, the use of titanium rods and screws, and improved bone graft material make TLIF an excellent and safe choice for many patients.
In minimally invasive spine surgery (left), including TLIF, neurosurgeons use tubes and microscopes to navigate to the affected section of the spine. In traditional open surgery (right), the neurosurgeon must make a large incision to gain access to the vertebrae.
TLIF spinal fusion is an advanced procedure that requires specialized training and excellent surgical skill. It has a high success rate when performed by experienced neurosurgeons at a major medical center. At the Weill Cornell Medicine Spine Center, our neurosurgeons have performed hundreds of TLIF procedures with excellent results.

Dr. Roger Hartl has been named by Castle Connolly as one of America's Top Doctors for the last nine years and one of the Top Doctors in the New York Metro Area for the past ten years. In 2017 Dr. Hartl once again appeared in New York magazine as one of New York's Best Doctors 2017. When Dr. Hartl appeared in the inaugural edition of the U.S. News and World Report listing of Top Doctors, he was identified as being one of the top 1 percent of spine doctors in the United States. In addition, Dr. Hartl has been named by Becker's Orthopedic & Spine Review as one of the 50 Best Spine Specialists in America.

Dr. Eric Elowitz has been winning accolades since 1998, when he received the Young Investigator Award from the Section on Tumors of the American Association of Neurological Surgeons. Dr. Elowitz was first named to the list of SuperDoctors in 2008, and has been on that list ever since. He has been named to the list of Castle Connolly Top Doctors and has also appeared in New York magazine as one of New York's Best Doctors. Dr. Elowitz joined the faculty at Weill Cornell in 2010, bringing with him expertise in minimally invasive spine surgery.
Use our online form to request an appointment.
Reviewed by Eric Elowitz, MD
Last reviewed/last updated: January 2018
Illustrations by Thom Graves, CMI