Our Locations
You are here
The Weill Cornell Brain and Spine Center has multiple locations, making it more convenient for you to schedule an appointment with one of our doctors.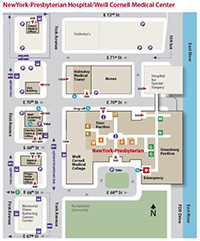 Upper East Side
We see patients at two locations in and near NewYork-Presbyterian Hospital. Please confirm the location of your appointment before you arrive. Our locations are:
Weill Greenberg Center
1305 York Avenue (at 70th Street), 9th Floor
and
Starr Pavilion of NewYork-Presbyterian Hospital
520 East 70th Street (east of York Avenue), 6th Floor: Suite 651
Note: Please enter the Starr Pavilion from the main hospital entrance on East 68th Street.
Midtown
The Weill Cornell Medicine Center for Comprehensive Spine Care is located at 240 East 59th Street, Second Floor (near Second Avenue). Find out more about the new spine center.
Lower Manhattan
The Weill Cornell Brain and Spine Center also has an office in lower Manhattan, at 156 William Street, 11th Floor.
Dr. Kai-Ming Fu
Dr. Michael Virk 
646-962-5115
Find out more about our lower Manhattan office.
Brooklyn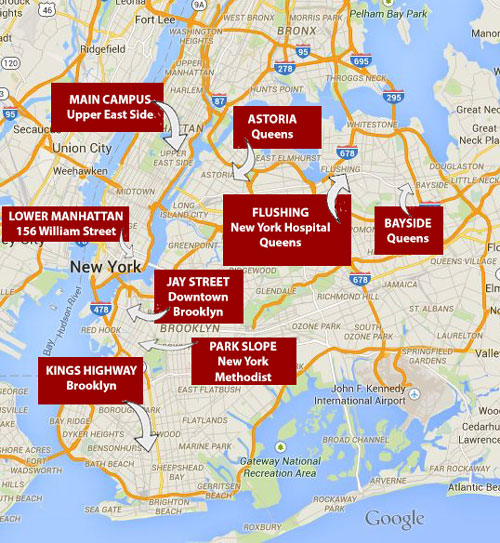 We have three convenient locations in Brooklyn:
Park Slope
NYP Brooklyn Methodist
506 Sixth Street
Brooklyn, NY 11215
More about NYP Brooklyn Methodist
Clinical offices:
Adult patients are seen at 501 Sixth Street, Suite 1J
Brooklyn, NY 11215
Call 718-780-3070
Pediatric neurosurgeon Caitlin Hoffman, MD, sees patients at:
263 7th Avenue
Brooklyn, NY 11215.
Please call 212-746-2363 to make an appointment.
Downtown Brooklyn
408 Jay Street, Suite 300
Brooklyn, NY 11201
646-962-5115
NewYork-Presbyterian Brooklyn Methodist Hospital is located at 506 Sixth Street, Brooklyn, NY 11215
Queens
Forest Hills
Dr. Caitlin Hoffman and Dr. Rupa Juthani see patients in Forest Hills. 
112-05B Queens Boulevard
Forest Hills NY 11375
Call the pediatric neurosurgery office to make an appointment with Dr. Hoffman (212-746-2363). For Dr. Juthani, call 718-670-1837.

Flushing
Dr. Ning Lin sees patients in northeastern Queens and performs surgery at both our upper east side location and at New York Hospital Queens. Contact Dr. Lin's office to make an appointment: 718-670-1837
New York Queens Medicine and Surgery
56-20 Main Street
Flushing, NY 11355
See a map of our Upper East Side campus and get directions to all office locations.