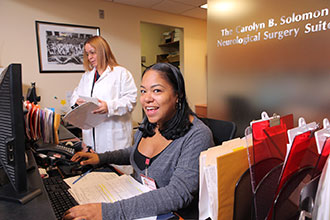 Please see our special instructions about video visits and office visits during the Covid-19 pandemic.
As our patient, you will receive the finest in consultation assistance and surgery by our neurosurgeons. Nurses, nurse practitioners, physician assistants, technicians, and trainees may assist your doctor during your visit. These individuals have special training and skills that make them an important part of our patient care team. If you are planning your first appointment with us, this page should help you prepare for your visit.
PLANNING YOUR VISIT
Please allow 30 minutes to an hour for your appointment. Your physician will spend as much time needed to ensure appropriate assessment and understanding of your care. Please prepare for possible delays with the assurance that you too will have the time you need with your doctor.
CONFIRMING THE LOCATION
Our physicians see patients at multiple locations, so please confirm the location of your appointment. See our locations.
WHAT TO BRING
The following list will help you remember items and information to bring with you to your appointment.
Completed Patient Questionnaires (click below to download)

Identification and Medical History
Medical records (consultation, operative, radiology reports)
Radiological films (CT, MRI, X-ray).
Photo ID for yourself and anyone accompanying you (required by hospital security)
Your insurance information and card (i.e., HMO, Medicare, Medicaid)

If applicable, please bring the following:
Letter of authorization from your insurance carrier
Insurance card
Any forms you were asked to bring with you
Any questions you may have for your doctor

If you are insured under a managed care plan, before your appointment:
Confirm that the provider you will be seeing is a participating provider in your plan and obtain any prior authorization, if required
Confirm that any service you will be receiving is covered under your plan and obtain any prior authorization, if required
Obtain any necessary referral authorization from your primary care physician before seeing a specialist
Be prepared to pay your co-payment at the time of service

 
If you have any questions at all before your appointment, please do not hesitate to call.
See the Faculty Directory for each physician's direct office phone number.