Back to the Ballroom
You are here
Robert Caterina, 68, of Linden, New Jersey, lives for ballroom dancing. He spends hours in the studio perfecting his moves, a practice that has served him well on the competitive circuit. It has also kept him in top physical shape. "Dance requires mental and physical discipline," he says. "When you're on the dance floor, you have to keep your physical and technical form, and you always have to do better." When a minor tingling in his fingers turned out to be a sign of a much larger issue, Robert was afraid his dancing days might be over. Thankfully, a referral to Dr. Eric Elowitz got Robert back on the dance floor.
"I'd had the tingling in my fingers for months," Robert says. Although he didn't think much of it at first, when it continued he got it checked at a local orthopedic clinic as a precaution. To his surprise, an MRI discovered the source of the tingle: an old fracture that, if it worsened, could take Robert off the dance floor for good. "I had no idea it was a fracture that was causing it," he exclaims. "My spinal column was enlarged near the injury and the bone wasn't stable. I'd been dancing and spinning my head for God knows how long!" The doctors at the clinic told him dancing could exacerbate the injury, and to stop. They also referred him to a local surgeon.
"My last dance was the day before I went to the local surgeon I was referred to," Robert recalls. He was crushed when that surgeon told him he would likely never dance again after the surgery.
"I stopped at the dance studio and I said I wouldn't be back, indefinitely," Robert says. The more he reflected on his circumstances, though, the more he dreaded the surgery and his future without dancing. After all, dance is what kept him healthy, and what brought him joy. "The people I dance with, you should see their physical fitness!" he says. "If they stop, they'll fall into the same fate as other people my age: having to take pills, going in and out of the hospital. I take zero pills!" he says. The prospect were unacceptable. "I thought about the potential surgery. I didn't feel good about it. I wasn't satisfied, so I cancelled it. I wanted something better. I knew I had to get to the right place for the right care."  
Robert returned to the orthopedic group and asked for a different referral.  They reiterated that, with his fracture close to the spinal column, it required a delicate surgery that would probably leave him unable to dance. He was directed to a local spine center, where the surgeon on staff suggested that Robert call Dr. Elowitz at the Weill Cornell Medicine Center for Comprehensive Spine Care.
Robert promptly did what most people do these days: he Googled Dr. Elowitz. He read about Dr. Elowitz's expertise with delicate spine surgery, and that VIPs came from all over the world to have him perform their surgery at NewYork-Presbyterian Hospital. "I called right away to ask if he could see me," he recalls, and two hours later he was delivering his scans to the Weill Cornell Center for Comprehensive Spine Care. The office called him the next day to make an appointment. 
"It was a good thing that Robert sought care when he did," says Dr. Elowitz. "Continuous physical movement would have really exacerbated the fracture on his spine. And it would have been disastrous if he had fallen or had overextended himself. Had he not discovered it, it would start affecting the rest of his body. So it's a good thing we scheduled the surgery when we did — time is of the essence here."
"In between scheduling the appointment and the surgery date, my left side started getting affected," recalls Robert. The progression from tingling fingers to greater symptoms made him realize how important it was to have the surgery, but he felt at peace. "I knew I had a place to go, and that there was no better place in this country to do this. Dance was the only thing I did. I wanted to give myself the best chance of a recovery. Dr. Elowitz and Weill Cornell gave me that." 
"Robert had a spinal fracture that was putting pressure on his spinal cord," says Dr. Elowitz. "His spine was unstable, leading to his worsening symptoms. What Robert needed was a cervical spinal fusion, in which the bones would be realigned and fixed in position to prevent spinal cord damage. Our approach to spinal surgery at Weill Cornell Medicine and NewYork-Presbyterian is frequently minimally invasive. We also use state-of-the-art equipment in the operating room, including a CT scan and computer navigation, which allows us to provide the most accurate and safest spinal surgery."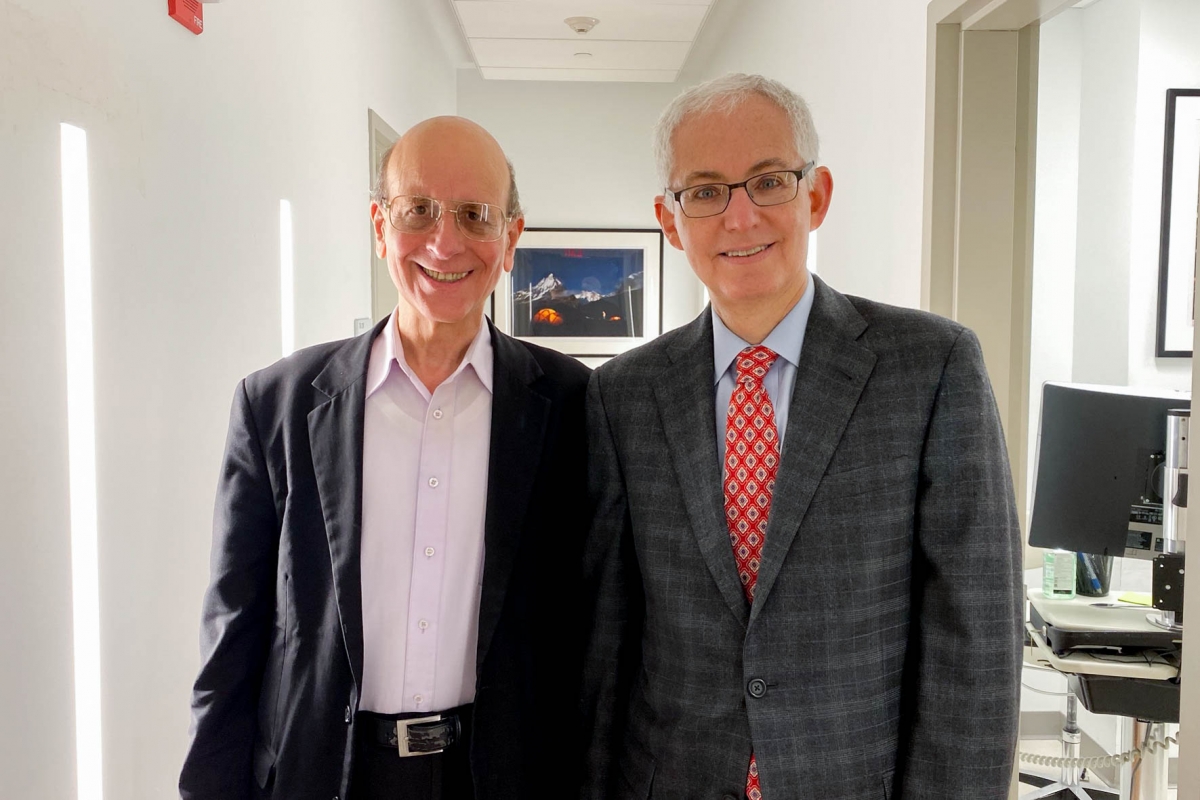 Robert Caterina and Dr. Eric Elowitz
On the day of the surgery, Robert felt confident. "I knew in my heart that I was in good hands with Dr. Elowitz."
Dr. Elowitz was confident as well. "We do many of these surgeries each month," he says. "We're always moving forward, but we're backed by years and years of cumulative experience. For Robert, one of our goals was to get him back to the dance floor as quickly as possible.  It's an honor to help every patient get back to their daily life. 
 "Clearly, Robert's was a very delicate surgery," Dr. Elowitz continued. The original surgeon's assessment of the severity of the injury was correct, but Dr. Elowitz was able to reduce the risk.
"Using the CT scan and computers in the operating room allowed us to keep the surgery as minimally invasive as possible," he says. "Without these new techniques, Robert's dancing days may have been over indeed." 
When Robert awoke after surgery, the first thing he did was check to see if he'd lost any functionality. "I moved my legs up. I was raising my leg to see if it was working, bending, side to side," he recalls. "I got everything. I lost nothing. 'Thank God,' I said. And then I zonked out."
Just a few months after surgery Robert was back on the dance floor. "They told me to not push the turning. But in ballroom dancing the head is aligned, and the extent of it isn't going to bother me. There's not too much movement," he says. "I'm thankful for the physical fitness dance has provided. It's a lifestyle. I started dance to do better for myself. And throughout all this, I gave myself the best chance at recovery."  
More about Dr. Eric Elowitz
More about the Comprehensive Spine Center