Kelly, a swimming champ and Olympic hopeful, resisted Chiari surgery until the pain became unbearable. This is her story.
I am one of three girls in my family — all competitive swimmers. My parents wanted us to learn to swim after my uncle drowned. So I started swimming at the age of 6, and when I was 10, I won the New Jersey State Swim Meet. It was a close race between me and two other girls and the first time I won something that big. That was the time I decided to become a competitive swimmer.
My proudest moment as an athlete was making it to NCAA this year which is the highest achievement in college. While I didn't do that well time wise, it wasn't that important. It was just the experience of being in this incredible competition that mattered. Our 800 free relay was 10th in the nation and so I can say proudly claim to be "all American". There's nothing better than ending my swimming career at the top. I am newly retired at the ripe old age of 21. I'm so used to my daily swimming routines that it's an adjustment to having this whole new level of freedom. While I still work out with my teammates, I can now do swimming just for fun.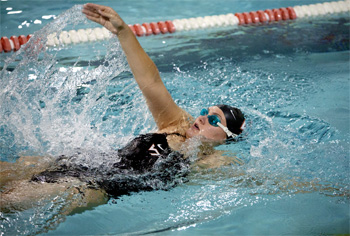 A Big Disappointment to Get Over
I missed the Olympic Trials in 2008 by 7/10th of a second! I wanted to go to the trials even though I knew I would not make the Olympics. That was hard for me because it was my one chance to make it since I would not be trying out in 2012. I was upset about it and realized it was affecting my swimming. It was a big disappointment to get over. There was also a lot of pressure from my hometown which made it much harder – I felt like I let them down. I gained weight because I was not happy with my performance and was losing motivation. I hated the feeling of not pulling through when my team needed me.
I realized I needed to change my attitude so my team could rely on me. It was a wake up call. It made me understand how others can impact how you perform. Having outside support from my teammates showed me that the sport needed to be team focused rather than "me" focused. I will miss is training with my team. They have helped me get through some hard sets and hard times.
Swimming has taught me a lot about discipline, time management and who I am. My schedule has been incredibly strict for 15 years. As a result, you meet your closest friends through the sport. It taught me the benefits of hard work and how you can influence people when they are having a hard time and make a difference.
Getting Diagnosed With Chiari
When I first was diagnosed with Chiari, I felt I could fight it and would not need surgery. I was so competitive about swimming that I did not want it to stop me from achieving my goals. Despite being closely monitored, I kept the pain to myself, even from my parents. I was pretty stubborn. And then freshman year of high school, after I won the YMCA National 200 Backstroke and could no longer live with the pain, I decided to go ahead with surgery.
Choosing a Neurosurgeon
I interviewed several doctors, among them Dr. Souweidane. We had an immediate connection and I immediately trusted him. He was really friendly and easy to talk and it was clear that he really cared about his patients. I was pretty nervous before the surgery, but confident that it was going to work. When other doctors said I would never swim again, he reassured me that I would not only be OK, but back in the pool. And he was right! I also had an awesome nurse who helped me a lot.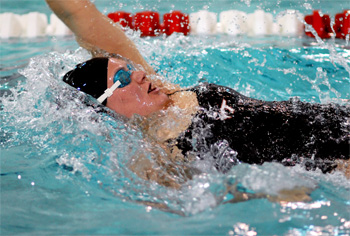 After only three days in the hospital I was back home and then kicking in the pool two weeks later. My hair grew back fast so I couldn't see the scar very well. It was kind of cool — kind of Frankenstein with staples. Dr. Souweidane said swimming was actually great PT for my neck rotation and it helped me recover much faster. His confidence in me also made me feel a lot better.
My Doctor, My Coach
Something really amazing happened. When I swam my first post surgery competitive mete, Dr. Souweidane actually came to cheer me on. I don't think any other doctor would have done that. Knowing how incredibly busy he is meant all the more to me to have him there to encourage me to swim at my best. I did really well and won my heat and turned in a great time. Dr. Souweidane not only made it possible for me to return to the sport I love, but to take my performance to a whole new level.
What Chiari Has Taught Me
The experience of going through the surgery helped me to be the swimmer and the person I am today. It made me more mature and empathic towards people with problems and disabilities. I know this sounds strange, but it's pretty cool that I had brain surgery. A lot of people are very surprised when they find out given my ability to compete at such a high level.
From Swimmer to Coach
I have been contacted by teen swimmers with Chiari as well as their parents. It's really helped and encouraged them to know I am a Division 1 athlete and that someone close to their age was able to overcome it and continue excelling at a sport they have a passion for. In addition to coaching other Chiari patients, my experience has inspired me to become an athletic coach so that I can help other athletes work through their own challenges to attain their personal best.
My Advice to Other Kids with Chiari
The message I give other Chiari patients is: Don't be intimidated by brain surgery. I was only in the hospital for three days. It was not as bad as I anticipated. Keep your faith that things will work out and believe in yourself. And I tell people that it's pretty cool to be able to say "I had brain surgery" and that it did not hold me back from anything I wanted to do. I also think keeping in shape helped my recovery. Chiari motivated me to work harder because I wanted to prove to myself that nothing would hold me back.
Read more Chiari Patient Stories | Chiari CARE at Weill Cornell
Photos by hokiesports.com