"Finally, I Had a Sense of Hope"
You are here
"Finally, I Had a Sense of Hope"
It started with migraine headaches that wouldn't go away. Caroline Nadel, a 24-year-old special education teacher from Port Washington, New York, tried over-the-counter pain medication, which didn't help. Her symptoms got much worse, very quickly: she started hearing a whooshing sound in her ear and began experiencing problems with her eyesight. "I would see black spots and flashes," she says, "and there were moments of blindness, where my eyesight would go completely dark." Caroline also began putting on weight, and she started feeling back and neck pain and stiffness that made it hard for her to move.
Panicked, Caroline went first to an urgent care physician, then her primary care doctor, and finally to a psychiatrist. She was diagnosed with everything from a sinus infection to mononucleosis, the flu, and anxiety. "No matter what medication they put me on, the symptoms wouldn't go away," she says.
Caroline began withdrawing from family and friends because of her pain. She could barely even muster the strength to visit her sick father, who had been diagnosed with cancer. Her work suffered as well – she had just started working toward her graduate degree, but she missed so many classes that she had to take incompletes. "I was unable to look at a computer screen for long," she says, "and I was constantly going to doctor's appointments. Working was nearly impossible."
One day her pain became so extreme that she went to a hospital emergency room, where doctors suspected meningitis. As part of the workout they performed a spinal tap, which revealed abnormally high pressure in her cerebrospinal fluid. That's when Caroline was diagnosed with idiopathic intracranial hypertension (IIH), a condition characterized by increased pressure in the fluid around the brain with no known cause. The symptoms of IIH – headache, vision changes, balance problems – can be similar to those of a brain tumor, which is why IIH is also known as pseudotumor cerebri. The condition is rare, occurring in only 1 to 2 per 100,000 Americans, but is 10 times more common in young women of childbearing age, particularly those who are overweight.
Caroline was referred to a neurologist and a neuro-ophthalmologist, who confirmed her diagnosis and put her on steroids and high doses of acetazolamide (brand name Diamox) to reduce the rate of fluid production in her brain. Unfortunately, her condition didn't improve and the pressure remained high. "I ended up visiting the ER two more times after that to have spinal taps, because that was the only relief for my symptoms," she says.
The third spinal tap didn't go well and ended up increasing Caroline's pain. "I finally decided that was enough and that I wanted to see a specialist," she says.
Caroline started researching her condition online and came across Dr. Athos Patsalides at Weill Cornell Medicine. Dr. Patsalides, an interventional neuroradiologist, had pioneered a stenting technique that had been successful in certain patients with IIH. Dr. Patsalides had found that in those with venous sinus stenosis (a narrowing in the veins in the brain), widening just one of the affected veins could relieve the symptoms.  "After seeing all the information about him on the website I decided that Dr. Patsalides would be the perfect doctor to help me figure out this condition," she says.
Indeed, her initial meeting with Dr. Patsalides changed her life. He began by ordering a magnetic resonance venogram (MRV), which determined that Caroline did have stenosis in her right transverse sigmoid sinus. The narrowed veins inside Caroline's brain were preventing cerebrospinal fluid (CSF) from draining normally, which caused an accumulation of excess fluid and increased intracranial pressure.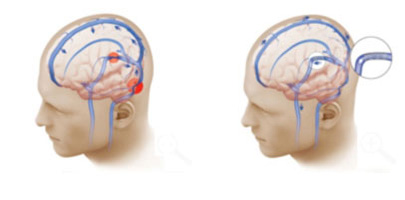 The illustration at left shows bilateral venous sinus narrowing (red circles), which compromises blood flow from the brain to the neck, contributing to intracranial hypertension. In the illustration at right, the narrowing has been treated with placement of a stent. As a result the blood flow from the brain to the neck is now restored (blue arrows), relieving the increased intracranial pressure and the symptoms of pseudotumor cerebri.
Dr. Patsalides described the minimally invasive stenting procedure he used to treat venous sinus stenosis and alleviate the pressure. It involved inserting a self-expanding stent into one of the affected veins to widen it, allowing the CSF to drain normally.
"He told me I'd be a good candidate for the procedure and I scheduled it that same day," says Caroline. "I felt so lucky to have a doctor like him helping me. I felt lost in the medical system, but finally I had a sense of hope."
For the first part of the procedure, Caroline was sedated but awake while Dr. Patsalides threaded a tiny catheter through her leg and up into her brain to assess the condition of her veins. "I knew that Dr. Patsalides had to first determine if the stent would be suitable for my stenosis," she says. "He and his team were great in ensuring that I was comfortable and feeling no pain." Once Dr. Patsalides had confirmed that the procedure was appropriate, Caroline was put under general anesthesia while he threaded another tiny catheter through her leg and up into her brain to put the stent in place.
When Caroline woke up from the surgery, she felt pain-free for the first time in months. Her headache and tinnitus were gone, her vision was clear, and the pressure in her head had disappeared. The stenting procedure had worked.
Today Caroline is happy and healthy and back at work. Two years after the procedure, she has lost 50 pounds and she started a support group on Facebook for people with IIH who are considering the stenting procedure. Currently there are more than 900 active members.
"Starting this support group was a great way to share my experience and help those who felt like I did prior to my surgery," she says. "I have shared how my life has completely changed and how well I benefited from the procedure."
Caroline says she wishes she could thank Dr. Patsalides every day. "Not only is he smart and extremely educated, he has an amazing bedside matter," she says. "He understood what I was going through and was supportive. He's an amazing doctor who cares about his patients. Dr. Patsalides saved my life."
More about IIH/Pseudotumor Cerebri
More about venous sinus stenting