"I Knew I Wasn't Fine" (A Chiari Story)
You are here
"I Knew I Wasn't Fine" (A Chiari Story)
Learning to Trust Herself: A Chiari Story
Danielle Dietz had a lot of headaches as a high school student, but she didn't realize at the time that they were anything unusual. "I always assumed everyone got headaches like that," she says now. "It wasn't until my mom noticed my right eye turning inward that we thought something might really be wrong. Since we thought it was an eye issue I went to my eye doctor, who ordered an MRI thinking I might have a brain tumor."
The scan didn't show a tumor, fortunately, but it did reveal that Danielle had a Chiari malformation, along with a syrinx (a cyst in the spinal column, also known as a syringomyelia, that often accompanies Chiari). Like most people without a family history of the condition, Danielle had never even heard of Chiari.
"I knew nothing about it — I couldn't even spell it at first!" she exclaims. "The only symptoms I really had were the headaches and some minor back pain." Much to Danielle's surprise, the eye doctor who diagnosed her referred her to a neurosurgeon, who recommended she have corrective surgery. Unfortunately, that surgery didn't do the trick.
"A year and a half later I was having a lot more issues and symptoms than I'd had before the surgery," Danielle reports. "I had more frequent, and worse, headaches; major back pain; neck pain; numbness and tingling in my hand, foot, and leg; and ringing in my ears. I knew something was wrong, but the surgeon told me I was fine and didn't even order any new scans. I knew I wasn't fine." 
Another doctor told Danielle to try physical therapy, and to see a neurologist for pain medication. But deep down inside, Danielle knew there was something more than just pain going on, so she took a different, very contemporary path.
"I went onto Facebook, to some of the Chiari malformation groups I belong to," she says. In one of those groups she read a post from another patient who had had very successful surgery and who spoke highly of her neurosurgeon, Dr. Jeffrey Greenfield. Danielle contacted her for more information, and within a week she had an appointment at Weill Cornell.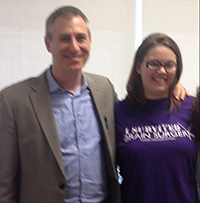 Above: Dr. Greenfield with Danielle. Top: Danielle shortly after her surgery. She describes her recovery as uncomplicated, and she was back to feeling like herself again in no time.
"From the moment I met Dr. Greenfield I was completely comfortable with him — and his entire staff," says Danielle. "Dr. Greenfield found things on my MRI scans that other doctors hadn't seen or mentioned (like the fact that I have Chiari type 1.5, not Chiari type 1, as I had been told for years). He showed me what he was seeing on the scans, and he taught me how to see it for myself." (See more about the different types of Chiari.)
Most important, says Danielle, Dr. Greenfield assured her that she had been wise to trust herself. "He taught me it's okay to doubt doctors, and to never let a doctor tell you you're fine when you know that you aren't. He taught me that a diagnosis doesn't always go by scans or tests, but by your symptoms and how you're feeling — and your quality of life!"
In March 2014 Danielle had her second Chiari surgery, this time with Dr. Greenfield. Despite her confidence in Dr. Greenfield, Danielle was still frightened before the procedure. "It's extremely scary to know you have to go in for brain surgery," she says. "This was my second surgery, but my feelings were the same as they were before the first surgery. Even though I trusted Dr Greenfield, it's still brain surgery!"
Danielle describes herself as being pleasantly surprised by this second surgery. "I was expecting the worst, but when I woke up I wasn't in as much pain as I thought I would be," she says. "And soon after surgery I was feeling back to my normal self."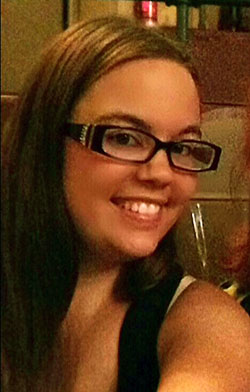 A year after her surgery, Danielle says she feels terrific
A year later, Danielle describes a life transformed: "Before my surgery with Dr. Greenfield, I had absolutely no quality of life. I would barely leave the house because of the amount of pain I was in. The symptoms interfered with everything I did. I would be in pain after standing too long, or laughing, and I was scared I'd be living like that for the rest of my life. After this surgery it's like I'm a brand-new person. I'm about 95 percent symptom-free — I get a few headaches, but I have a life. I'm able to be a normal 24-year-old now, and I never thought I'd be able to say that!"
Danielle attributes her successful recovery to Dr. Greenfield. "You can tell he really cares about his patients and will find a way to help them no matter what," she says. "He is one of the most caring and compassionate people I've ever had the pleasure of meeting, and being able to call him my doctor is an honor."
Danielle is also grateful to the Facebook friend who referred her to Weill Cornell — "she's one of my best friends now!" — and to the new sense of community she has found online. "Chiari, as hard as it is, has changed my life in so many ways," she says. "I've met the most amazing people, and I now have friendships I never would have had without it. You're part of an incredible family that will be with you every step of the way, and who know every single emotion you're going through, which is a pretty amazing thing."
What advice does Danielle have for someone newly diagnosed with Chiari? "Relax and take a breath," she says. "I know that's easier said than done, but it won't be as bad as you think it will be. If you have a doctor who truly knows Chiari and wants to help people, like Dr Greenfield, you're in the best hands and everything will turn out fine for you!"
More Chiari Stories: