Angela Soto ignored the calls at first – they were from an unknown number and she assumed it was just another telemarketer interrupting her Saturday. But after the phone had rung several times, her 11-year-old daughter got tired of hearing it. "Mom, these people keep calling – you should answer them," she said. Little did Angela know when she picked up the phone that it was the call every parent dreads.
Angela's son Joaquin, 15, was in an ambulance being transported to NewYork-Presbyterian/Weill Cornell Medical Center. Joaquin had sustained a very serious head injury, and Angela was told to get to the hospital as fast as she could. "He had gone to the movies with three of his friends," she says. "I had no idea what could have happened."
Joaquin and his friends had indeed gone to the movies – Incredibles 2 had just opened and they'd been eager to see it – and the boys were headed home when they passed a parked delivery truck. For reasons that make sense only in the minds of adolescents, the teens decided to climb on the back of the truck. And in a scenario that plays out in the minds of worried parents everywhere, the truck was not parked at all but merely stopped – and the driver took off.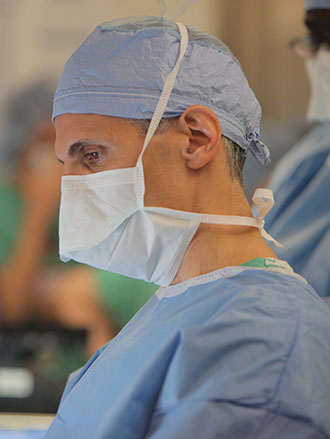 All four boys fell the short distance from the truck to the ground, but only Joaquin fell directly on his head. Witnesses on the busy Upper West Side avenue called 911 and Joaquin was in an ambulance within minutes, with injuries so severe that the emergency room doctors who came out to speak to Angela told her to prepare for the worst.
Joaquin had fractured his skull, badly, and was bleeding profusely in his brain. He would need emergency surgery, doctors told Angela, and time was of the essence. Dr. Mark Souweidane was already headed into the operating room with her son.
Angela had no idea that Dr. Souweidane is one of the top pediatric neurosurgeons in the world – she only knew her son's life was in his hands. Surgery took two hours, every minute of which was excruciating for the boy's family, but Dr. Souweidane had an exacting job to do, and that takes time.
Joaquin had an epidural hematoma, which is a pooling of blood between the skull and the dura (the tough membrane covering the brain). Epidural hematomas can form when a skull fracture tears one of the blood vessels of the brain, and they can be life-threatening. (It was a similar injury that caused the death of Natasha Richardson after a seemingly minor fall on a ski slope.) In Joaquin's case, the fall and skull fracture had torn multiple arteries on the left side of his brain, and the bleeding was severe.
It took more than 100 staples to close the head wound after Dr. Souweidane stopped the bleeding and evacuated the hematoma. For Joaquin's family, the hardest part was about to begin: the waiting. Whether or not the boy would survive, and whether or not he would be neurologically intact after such a devastating injury, remained to be seen.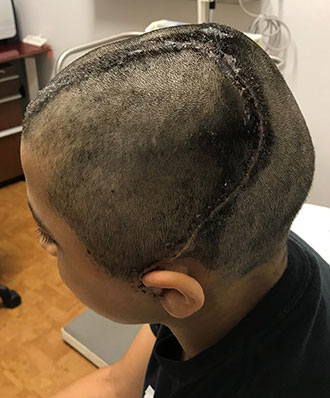 To everyone's relief, Joaquin woke up with no apparent physical or neurological damage caused by the trauma. Ten days after the accident and the surgery, he didn't even flinch when Dr. Souweidane's physician assistant, Therese Haussner, painstakingly removed all those staples from his head.
Angela and the rest of Joaquin's family are overjoyed and relieved, of course, although Angela confesses that "I was so mad at him!" for climbing on the truck in the first place. Will she make her son wear a helmet from now on when he goes to a movie? No, she laughs – he has to wear a helmet every time he walks out the door!
As for Joaquin, he says he's learned his lesson about truck-climbing adventures. Mostly, he says, he's bummed that he'll have to go see Incredibles 2 again – the injury wiped out his memory of anything directly preceding the fall, so he doesn't remember a thing about the movie. "Now I have to pay to see it again!" he complains.
Angela knows just how much he nearly paid for the movie the first time around – and she appreciates how lucky he is to have come out of this incident intact. She is grateful to the quick-thinking witnesses who called 911, to the EMS team that got Joaquin to the ER so quickly, and the fast-moving experts at NewYork-Presbyterian/Weill Cornell Medical Center who cared for her son and brought him back from the brink. And now she knows how lucky she was that a world-class neurosurgeon like Dr. Souweidane was available that Saturday and was able to repair such devastating damage to save her son.