Martin "Marty" Melik, 69, runs Mehron, Inc., his family's 92-year-old makeup manufacturing business in New York. In between making executive decisions regarding the company's management and helping his staff in the warehouse, he and his wife, Marilyn, find time for their passions: travel, dining out, and their beloved poodle, Riley. Marty was a youthful 69 except for his chronic back pain; he sometimes had to take quick rest breaks until the pain subsided. As time passed, the pain intensified and spread — sidelining him from his daily responsibilities of running his company. Fortunately for Marty and Mehron, a trip to Dr. Ali Baaj and the Weill Cornell Medicine Center for Comprehensive Spine Care helped Marty get back to the life he loves.
Marty first went to the Spine Center in 2018, but his problems had started in 2015. "What used to be chronic back pain started traveling across my left buttock and down my left leg," he remembers. His movement became more and more restricted until he could no longer help around the warehouse or focus on the day-to-day work of Mehron. His physical problems took a toll on the business. "I was ordinarily active in our manufacturing facility," he says, "but I found myself delegating routine tasks to staff to avoid walking around our plant. Trade shows that involved travel were difficult to undertake due to my limited mobility." His condition became so painful that, one evening in early 2016, he laid flat on the floor to relieve his pain. That was when he and Marilyn knew this was serious. "My wife said, 'Enough is enough,' and told me to visit the emergency room to get pain relief medication," Marty says.
Much to Marty's surprise, emergency room doctors didn't seem concerned about his back pain and instead focused on his heart. Atrial fibrillation (AFIB) is an irregular, rapid heartbeat that can increase the risk of stroke and heart failure, and doctors detected it in Marty. Due to the urgency of his condition, the hospital staff treated Marty aggressively and referred him to a cardiologist, who recommended that he undergo open heart surgery to address and repair the atrial fibrillation.
"I'm glad they caught the atrial fibrillation…. but they didn't address my back pain issue!" laughs Marty, who spent the next couple of months recovering from the heart surgery. "The recovery took a while, and I was advised not to exert myself physically," Marty says. The less active he was, the less his back ached. It was a welcome, albeit temporary, change.
As Marty resumed his earlier routines, the back pain returned with them. "It was the same feeling as before — the pain extended to my left leg," Marty says. He sought help from local doctors and went through two physical therapy prescriptions. "I went for acupuncture treatments, massage and stimulation treatments," Marty recalls. "After that, I went through seven different steroidal pain relief sessions — nothing seemed to work!"
Seeking a more serious approach, Marty sought expert advice from the Weill Cornell Medicine Center for Comprehensive Spine Care. He met with a physiatrist, Dr. Michael Sein, who referred him to Dr. Ali Baaj.
Dr. Baaj is a neurosurgeon who specializes in spine surgery and has completed thousands of spinal procedures for neck and back pain over the course of his career. "Marty had an L5-S1 nerve compression," says Dr. Baaj, referring to the lowest vertebra of his lumbar spine (L5) and the top vertebra of his sacral spine (S1). "With such a severe compression, you can't apply any 'band-aid' solutions. It had to be corrected surgically or he would have likely suffered for the rest of his life. The best way to go was ALIF surgery."
A lumbar interbody fusion is a procedure in which a degenerated disc between two vertebrae is removed and the vertebra are stabilized using a bone graft. These procedures may now be done starting with an incision in the back (a posterior lumbar interbody fusion, or PLIF, or a transforaminal lumbar interbody fusion, or TLIF) or the side (lateral lumbar interbody fusion, or LLIF). The approach Dr. Baaj recommended for Marty started with an incision in the abdomen (anterior lumbar fusion, or ALIF). It's the same surgery Tiger Woods had two years before his comeback victory in the 2019 Masters Golf Tournament. The advantage of this approach, when compared to traditional posterior approaches, is that surgeons preserve lower back muscle and ligaments, helping people like Marty who lead active lifestyles. This also allows surgeons to insert larger grafts and, as a result, achieve better curvature to the lower spine.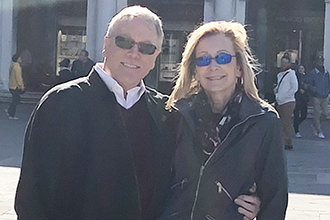 Marty with his wife, Marilyn
Marty was scheduled to go into surgery in April 2018. "Throughout this process, Dr. Baaj and his team presented themselves as confident and capable," Marty remembers, "I knew I'd be in good hands." The surgery went without incident, and the hospital staff moved Marty to the recovery room.
"The surgery went very well," remembers Dr. Baaj, "In fact, it went so well that when I visited Marty, I saw an empty bed!" Marty was already up and walking, having self-started his recovery. "I couldn't wait to get out of the hospital and go home to begin my recuperation!" he laughs.
One year later, the only reminder of Marty's time with chronic back pain is a three-inch scar across his lower abdomen — and renewed mobility. "Every day, I'm thankful for the ability to stand and walk pain-free," Marty says.
Marty is back to business — he and Marilyn recently attended a trade show in Bologna, Italy, and followed that with a week in Venice. "We averaged five or six miles of pain-free walking every day — we even did nine miles one day!" he happily exclaims.
For anyone going through the same medical issues, Marty has this piece of advice: "Anyone with chronic back pain should see the professionals at the Weill Cornell Medicine Center for Comprehensive Spine Care for the opportunity to return to an active, pain-free life!"