Elle Aviv admits that she used to take her health for granted. A year ago the 36-year-old New Yorker, the former host of a jewelry shopping channel, was a successful entrepreneur and graduate student who enjoyed an energetic and active life. She loved to travel far and wide and frequently went rock climbing, snowboarding, kayaking, hiking, and swimming. "It's so easy to take it all for granted when you have the freedom and the ability to do anything you desire," she says.
That changed suddenly in early 2017, when she returned from a trip to Thailand with acute pain in her neck. Attributing it to an overzealous massage she'd had on her trip, Elle assumed it would get better on its own. Instead it got steadily worse.
"I was in constant, intolerable pain all along the left side of my neck and shooting down my left arm," she recalls. She also experienced intense pain in her left shoulder. She couldn't lie down or sit for any extended period of time, which made it impossible for her to travel for either business or pleasure.  Her constant awareness of the pain made it difficult to work or to enjoy her life. For the first time, Elle felt completely debilitated, and medications were not helping.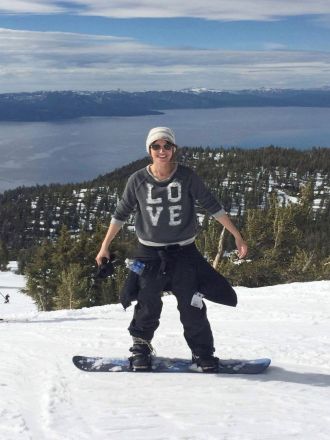 Before she developed debilitating pain in her neck, Elle Aviv led an active life filled with travel and adventure.
As it turned out, Elle had a herniated disc in her neck. She consulted with four neurosurgeons and two orthopedic surgeons, all of whom recommended surgery, but she was determined to stay out of the operating room. "I truly believed I would overcome this without resorting to surgery," she says. "I turned to alternative methods of healing — I meditated and hoped that I could overcome the physical pain through positive thinking and the power of the mind. I tried physical therapy, acupuncture, spinal epidurals of steroid cortisone injections. I even read Dr. Sarno's book titled, 'Healing Back Pain,' but nothing took away the pain."
Still, the thought of having surgery frightened Elle, and the more she researched her condition the more determined she became not to have a spinal fusion, which many surgeons recommend for patients with herniated discs. (Fusion addresses pain by reducing movement between two vertebrae, which Elle feared would limit her ability to move her neck.) The more she read, the more she became convinced she would only consider a minimally invasive artificial disc replacement.
A friend of Elle's, a physician assistant to one of the top neurosurgeons in New York, recommended that she see Dr. Eric Elowitz of the Weill Cornell Medicine Center for Comprehensive Spine Care. Dr. Elowitz specializes in minimally invasive neurosurgery and is an expert in both fusion and artificial disc replacement surgery. Elle was especially happy to hear that he chooses his patients carefully and will only perform surgery when absolutely necessary, and on patients he believes are good candidates. He also believes in developing an individual treatment plan for each patient. 
"Both anterior cervical fusions and disc replacements have an excellent record of improving pain," says Dr. Elowitz. "In some patients, disc replacement is a preferable option as it maintains spinal motion and may lessen the risk of having problems at another disc level. In other patients, fusion may be a better choice. The bottom line is that it is really necessary to customize the surgery for each patient."
"Dr. Elowitz looked over my records and scans before scheduling an appointment with me," says Elle. "He recommended that I move forward with an artificial disc replacement. The thought of having a major spine surgery scared me, especially being as young and active as I am, but I knew I couldn't go on another day feeling disabled."
After meeting Dr. Elowitz in person, Elle felt better about the prospect of having surgery. "Dr. Elowitz is so kind, informative, and patient, with an excellent bedside manner," she says, "I had complete trust in him and his abilities. And Ed Butler, Dr. Elowitz's nurse practitioner, was incredibly nice and answered all of my questions throughout the process."
Since Elle had never had any surgery before, she was still nervous about the procedure. But she was desperate to have her life back again, so she agreed to the artificial disc replacement.
In the News: Elle Aviv Brings a New Smile to Third Avenue
Elle was operated on at NewYork-Presbyterian/Weill Cornell Medical Center. "I was overwhelmed by the number of doctors, anesthesiologists, and assistants in the operating room," she says. "I was really scared, but the nurses and staff took very good care of me.
"When I woke up, I was in a very comfortable hospital room that was warm and cozy," says Elle. "My mom, who had flown in from Florida to be with me, was right by my side. The residual surgical pain was not easy for me, but the initial nerve pain, the reason I had had the surgery, was completely gone. I only had to stay in the hospital for one night, then I recovered at home for about six to eight weeks. My mom stayed with me, and was so sweet and caring, as always. She supported me throughout this entire journey."
One of Elle's concerns about the surgery had been the potential for scarring — after all, the surgery was on the front of her neck in a very visible location — but she was relieved to see that the incision was only about two inches long. She is amazed that a procedure as complex as disc replacement all took place through that small opening.
"Dr. Elowitz is a pro at performing a minimally scarring incision," she marvels. "The incision was perfectly cut into a fold in my skin, so it would blend in. To close up the incision after the surgery he uses the same technique as a plastic surgeon. I didn't even have to get stitches taken out, as they fell off on their own over time. I had a bandage the first few weeks, and that was it. I've been applying vitamin E and silicon scar treatment, and it is looking much better already. I also did acupuncture to reduce redness of the scar. I imagine by this time next year it will be hardly noticeable."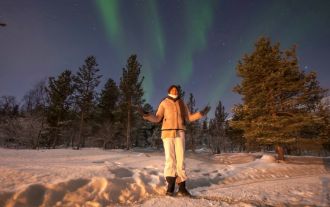 Elle went quickly back to her peripatetic life after her surgery – one of her first trips was to Norway to see the Northern Lights.
Four months after her surgery, Elle says she feels better every day. (Dr. Elowitz notes that most patients recover from the surgery itself within four to six weeks, but for those who experienced such significant nerve pain and pressure before the procedure, the nerves can take longer to recover.)
"I do physical therapy three or four times each week, and I'm also icing, applying heat, and taking warm baths," she says. "Walking helps me a lot, so I take walks every hour for about fifteen minutes. I work hard on my posture and stretching. I also go to the gym and can do squats and lunges again and ride on the recumbent bike, which I am so thrilled about. I am building up my core again and I can't wait to start swimming and engaging in more rigorous activities soon." 
Being able to work and travel again is hugely gratifying for Elle, but that's just the beginning. "I have my life back!" she exclaims. "There is no comparison to what I was going through a year ago. Now I can go out and smile and laugh and enjoy the company around me! It is an amazing feeling."
Elle remains surprised at just how intense the pain of her herniated disc was, and how impossible it was to treat it nonsurgically. "People cannot live with nerve pain," she says. "It's just too much to bear. For people who try absolutely every other alternative, such as physical therapy, acupuncture, and epidurals, and are still in pain, I highly recommend this surgery." 
As she works toward her goals, Elle keeps in mind that her body has been through a lot and stays philosophical about her journey. "With any struggle comes great strength," she says. "I am happy to say that I feel like a new person again. I would advise others to be patient, do their homework and attend physical therapy, and above all remember to stay positive, optimistic, and know that there is hope and there are options to help them heal and recover. Most of all, I'd advise them to go see Dr. Elowitz!"
More about MIS artificial disc replacement
More about the Weill Cornell Medicine Center for Comprehensive Spine Care