From the outside, anyone would think Bethany Blonder is a typical 12-year-old: she loves swimming, playing with her brother, Dylan, and their dog, Bailey, hanging out with her friends, and playing video games. In fact, Bethany is anything but typical; she has endured more in her dozen years than most of her seventh-grade classmates will see in their lifetimes. And as her parents, Eric and Robyn, will tell you, they're consistently impressed by her determination and ability to fight through adversity.
When Bethany was born, Eric and Robyn noticed that she had issues with feeding and her vocal tone. "We were worried," Robyn remembers. "Bethany was slow to gain weight and she couldn't hold her head up like other babies her age." Bethany's developmental delays made her eligible for early intervention physical and occupational therapy, but unfortunately she made minimal progress. This was a unique situation, and her parents started to wonder if there might be a neurological issue.
"My gut urged me that we were missing something, but every pediatric neurologist we saw insisted she was fine," remembers Robyn. That all changed when they saw Dr. Murray Engel at NewYork-Presbyterian/Weill Cornell Medical Center. Suspecting something was very wrong, Dr. Engel referred Bethany to a pediatric orthopedic surgeon, who diagnosed her with a rare spinal condition called Klippel-Feil Syndrome (KFS).
KFS is a bone disorder usually diagnosed when two or more vertebrae in the neck fuse together. Bethany's condition was even more complex — she had fusions and abnormalities in her cervical, thoracic, and lumbar regions that hindered her neurological development. Complications of KFS can include scoliosis, which appeared in Bethany at age 2.
Robyn remembers one scary weekday morning a few years later when Bethany suddenly grabbed a table for balance. "I knew something was drastically wrong when she said, 'Mommy, I feel wobbly,'" Robyn recalls. The dizzy spells worsened, and before long Bethany was having episodes when she would choke on her food. An emergency visit to the orthopedic surgeon led them back to Weill Cornell Medicine — this time with pediatric neurosurgeon Dr. Jeffrey Greenfield.
"The first appointment with Dr. Greenfield was all it took to know we were in expert hands," recalls Robyn. As Dr. Greenfield talked to Bethany directly, Robyn and Eric felt a connection with him, saying, "He read the anxiety written all over her and answered all of her questions." After a thorough examination, Bethany was diagnosed with cranio-cervical junction abnormality — meaning that she had multiple abnormalities in the bones that joined her head and neck.
"I told them we had to do surgery soon," Dr. Greenfield recalls. "As she got older the dizziness, headaches, and pain would just worsen."
Bethany's conditions called for a complex surgery that took place over two separate days with a team of surgical specialists. Dr. Greenfield led the team with two other world-renowned neurosurgeons at the Brain and Spine Center: spine specialist Dr. Roger Härtl and minimally invasive skull-base surgery specialist Dr. Theodore Schwartz.
Dr. Härtl made an especially big impression on the worried parents.  "I remember the sincerity in his eyes," Bethany says. KFS had left Bethany's head and spine misaligned, and for years different doctors had said repairing that would be an impossible task. Dr. Härtl confidently told her he could do it, and a shocked Robyn relayed to him how many doctors had said it was impossible. Was he sure he could do the impossible? "Of course I can," Dr. Härtl reassured her 
—
and for the first time in the whole saga, Robyn cried, this time in relief. She knew they were in capable hands.
It was a challenging surgery for everyone involved. Twelve hours after the surgery began, Robyn, Eric, and Dylan were in the pediatric ICU recovering with Bethany. Dylan, who is especially close with his sister, often questioned the need for surgeries because he thought she was "perfect the way she is." They all felt a reprieve from KFS, but due to the complexity of her condition they knew Bethany would likely require additional corrective surgery down the line.
Three years later, at age 10, Bethany was back at Weill Cornell Medicine for surgery on an associated condition called Tethered Cord Syndrome. This was done with the hope of improving her congenital scoliosis and her lower extremity weakness.
Bethany was also displaying worsening scoliosis, and Robyn called Dr. Roger Härtl to see if he could help. He connected them with one of his colleagues at the Brain and Spine Center, Dr. Ali Baaj, who specializes in adult and pediatric scoliosis and other spinal deformities.
"Dr. Baaj convinced us, once again, that we were in the right place." She felt especially comfortable when Dr. Baaj described himself as a "dual-trained surgeon" — a unique combination that gave him the neurological and orthopedic expertise to tackle the physical and neurological challenges of Bethany's severe spine problems.
"Bethany's curve was at 73 degrees," Dr. Baaj recalls. "Her spine curved sharply inward and if it continued, it would do irreparable harm to her internal organs."
Bethany was devastated at the idea of another surgery, but Robyn trusted the team at Weill Cornell Medicine to help save her life. After the consultation, she recalls walking out of the hospital thinking, "There are no other doctors in the world that will touch my babies." After the 6 hour surgery, Bethany was well on her way to recovery — where there once was a curve there were now titanium rods and screws making up the entire length of her back.  Her curve corrected significantly and had no neurological problems during or after the procedure.
Recovery had its own challenges. "It was a push-pull of managing her severe pain while encouraging her to get out of bed to prevent pneumonia and increase healing," Robyn says. When Bethany first arrived at home, she had to stay downstairs while wearing a custom back brace that helped keep her torso stable as she healed. Through it all, Bethany had a goal to return to school full-time—which she did just in time for picture day, which she had sworn she wouldn't miss.
Bethany and her family continue to persevere despite Klippel-Feil Syndrome and are now united with a larger patchwork of survivors and patients. Together with other patients on Klippel-Feil Syndrome Freedom, a site that gave them comfort and a community during their ordeal, they commemorate Klippel-Feil Day every August and give thanks for putting a painful episode behind them.
Today, Bethany is living a normal life, free from back problems. And Robyn is especially thankful, saying, "Bethany's syndrome is rare and she doesn't fit into a box…. we needed people who took Bethany's body, in its unique totality, into account, and we have consistently found that with Weill Cornell staff. All of Bethany's neurosurgeons from Weill Cornell are our personal superheroes for giving her the ability to stand tall and be our mighty little giant!
More about Dr. Jeffrey Greenfield
More about Dr. Roger Härtl
More about the Pediatric Skull Base Program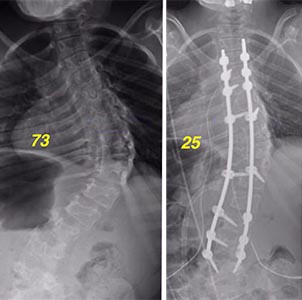 Bethany's spine scans, before and after