This Story Is Far From Over
You are here
This Story Is Far From Over
Like most New Yorkers, Misook Ahn spent much of 2020 at home, protecting herself and her family from the Covid-19 pandemic. Unlike most of us, however, Misook, 53, had to venture out of her Queens home occasionally to be cared for by a multidisciplinary team at NewYork-Presbyterian Weill Cornell Medicine. Thanks to Dr. Rupa Juthani and a dedicated team of doctors, Misook is home with her family again, feeling well and safe.
Misook's family certainly never expected anything like what happened back in the spring of 2018, when she started complaining about headaches and nausea. She left her job at a salon because she felt too sick to work, and her daughter Yunji, a nurse, finally persuaded her to have her symptoms checked out at NewYork-Presbyterian Queens. The entire family was shocked to learn Misook — who had never smoked, had not been exposed to second-hand smoke at home, and whose family had all lived to ripe old ages — had lung cancer, with signs of metastasis to her brain.
For the next six months Misook worked with a medical oncologist to manage her condition, but later that fall she experienced more headache and nausea, and an MRI scan revealed swelling in her brain. Misook's doctor called in Dr. Rupa Juthani, a neurosurgeon specializing in brain tumors. "We were so lucky to find her," says Misook's daughter Yunji. "My mother did not want surgery, but once we met Dr. Juthani and found out this was her specialty, we decided that it was the right thing to do."
"Misook had been responding very well to her targeted chemotherapy," says Dr. Juthani, "but as is often the case, the brain can be more resistant to these treatments, and she had developed a large tumor affecting her vision. We were able to remove the entire tumor, and she had complete recovery of her vision."
Misook had a rapid recovery and underwent a series of focused radiation treatments (stereotactic radiosurgery) with neurosurgeon Dr. Susan Pannullo and radiation oncologist Dr. Jonathan Knisely at the Weill Cornell campus. Misook's oncologist, Dr. Jones Nauseef, transitioned her off chemotherapy and on to a special immunotherapy, which allowed her to live essentially symptom-free.
That treatment plan worked well until early 2020, when Misook developed some pain and weakness on her left side. She was scared to go to the hospital, but she suddenly developed worsening weakness and difficulty staying awake. Dr. Nauseef ordered a new MRI scan, and the family headed to the David H. Koch Center of NewYork-Presbyterian for the imaging. The scan showed growth of a single tumor and brain swelling with midline shift – when one hemisphere of the brain enlarges and moves past the center line; Dr. Nauseef immediately sent Misook to the ER across the street at the Weill Cornell campus — which had just instituted new precautions due to the coronavirus.
The new rules prohibited visitors, but Yunji and her dad appealed to Dr. Juthani for help. Misook speaks Korean with limited English, and Yunji felt it was important that one of them be with her to translate. Thanks to Dr. Juthani's intervention, Yunji and her dad were able to accompany Misook into the emergency department, where she was connected with a phone interpreter to help with communication. At that point they needed to leave her in the capable hands of the hospital team. Misook needed a Covid-19 test, which was negative, so she was assigned to a non-Covid ICU room – a great relief to Misook and her family.
"Dr. Juthani called us later," says Yunji, "and I was so glad to hear her voice. My mother needed IV steroids to reduce swelling, which we knew, but Dr. Juthani said the midline shift was life-threatening and we needed to decide if we wanted her to operate. The only other choice was hospice."
Misook and her family were not ready to give up. A multi-disciplinary team at the Weill Cornell Brain and Spine Tumor Board reviewed the case and they recommended surgery. The immunotherapy had helped her body attack the new tumor, which can cause more swelling in the brain. Because her cancer had responded so well to the immunotherapy, one of the goals of surgery was to allow her to restart it safely.
"Here at Weill Cornell Medicine, we treat each cancer patient with an individualized approach taking into consideration their unique genetics, overall health, response to prior treatments, and most importantly, their goals," says Dr. Juthani. "Misook has always been a fighter, and she inspires us to keep fighting for her."
Once the decision had been made to go ahead with surgery, Dr. Juthani used the least invasive approach to allow her to recover faster. Misook woke up from surgery feeling immediately stronger, and was back to her normal self by the next day. She went home just a few days later.
Now recuperating in Yunji's New Jersey home, Misook is feeling well and is up and walking, doing her daily activities on her own, and working with physical and occupational therapy. "She hadn't looked this good in months, and we were so happy to see her big smile again," says Dr. Juthani. "This was a real team effort, and we all celebrated her success."
The family is grateful to Dr. Juthani for the successful surgery, as well as for being available for video visits to see Misook through. "My mother is not too tech savvy, so she needed a little help making the appointment and getting set up," says Yunji, "but she felt safe and comfortable doing the video visit with Dr. Juthani."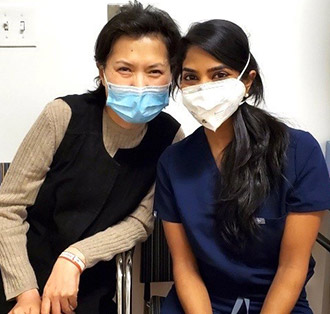 When Misook needed an in-person follow-up with her neurosurgeon, Yunji was impressed with how safe they felt in Dr. Juthani's office. "My mother needed a CT scan as well as a visit, and Dr. Juthani arranged it all for the same day so we only had to come in once," she says. "They took our temperature and asked about our exposure to the virus, and we were the only ones in the waiting room. Everything was clean and all the staff was masked, so we felt safe."
Now that she's feeling well again, Misook will resume immunotherapy with Dr. Nauseef soon. Delighted to have her back and doing well, Yunji is grateful to Dr. Juthani, Dr. Nauseef, Dr. Pannullo, Dr. Knisely, and the hospital staff at NewYork-Presbyterian for keeping her mom safe and sending her back home to her family. Having her mother home and feeling well makes everything that's happened over the past two years feel worthwhile.
"Sometimes people hear 'brain metastases" and think it's over," says Dr. Juthani. "But the truth is, we have new and innovative treatments that help us not only give patients the gift of time, but quality time to spend with their family and friends. Misook continues to defy expectations, and we are very optimistic about her."