Surgery in the Time of Covid-19
You are here
Surgery in the Time of Covid-19
Indika Wijesinghe, 54, has terrible timing. In early March of 2020 he was working at his job in advertising sales, spending time with his wife and kids, and hosting get-togethers for friends at their Staten Island home. By the end of the month he was struggling with back pain while staying home through New York's pandemic "pause." A month later he'd be undergoing urgent spine surgery at NewYork-Presbyterian Brooklyn Methodist despite the Covid-19 lockdown. Thankfully, in addition to bad timing Indika had good luck – he found Dr. Louis Chang, newly arrived at NYP Brooklyn Methodist, and he is now recovering from his surgery at home.   
Indika's story started on March 11, just as the first Covid-19 cases were being reported in New York City. "I was on a treadmill trying to push myself a little bit to increase my speed," he recalls." "My back started hurting and I felt a tingling in my leg, and that's when I decided to call it a day." He left the gym, and to his relief the tingling went away. "I thought I was okay," he says. "The next day I went back, went through my routine, and less than ten minutes into the treadmill I could feel something wasn't right." This time, the pain didn't go away.
He tried to find a chiropractor to see him on short notice, which was a challenge given the looming threat of the virus, but he found one who had an opening on Friday the 13th. "I had a session where they mostly did an adjustment to the back — heating, massaging, that kind of thing," he recalls. "I walked out and felt a little better. I went back the next day and they did something slightly different and they tinkered with the lower half of my body. It felt like they were moving it and stretching out the spine. After that session, I didn't feel good at all. It was a drastic difference from the day before."
That was Saturday, March 14, and Indika recalls the atmosphere at the time. "It seemed like things were brewing. I remember a friend was having a birthday that night. I was struggling a bit, but wanted to go to this dinner. I felt like places were going to close up — who knew when we'd be able to go out again? I And even though I wasn't feeling 100 percent, knowing that we might go into lockdown, or quarantine, I want to dinner that night and struggled through."  The next day, the mayor announced that schools would close effective immediately.
Two days later Indika called his primary doctor and asked when he could get his back looked at. "When I called my doctor," Indika recalls, "they didn't have an option for telehealth. I had to go into the office, everyone was wearing masks and gloves, but I did get a prescription for the meds. A couple of days later, they took an X-ray and found some issues with my spine — they said I'd have to see a neurologist and get an MRI." 
That was March 16, when New York City reported 5,000 total cases of Covid-19, hospitals were cancelling non-emergency surgeries and appointments, and the mayor warned of a coming "shelter-in-place" order. Indika wasn't sure what to do, but his wife was. "She said 'You're not going to go to the hospital — there's too much going on,'" he remembers. "It wasn't like my bad back was keeping me from going to work or doing social things or going shopping or whatever. So we agreed that I'd just take the meds until the virus blew over. When that happened, I'd go see the neurologist and see what needed to be done." 
Though Indika was willing to wait, his back was not. On Saturday morning, April 25, with New York City reporting 164,895 cases, the pain woke him up in the middle of the night. "I was pretty much out of commission, I couldn't do anything. I couldn't walk, I could barely speak — I was in so much pain." He called an ambulance to take him to a nearby hospital.
The EMTs who arrived told him that the only people being admitted to the local hospital were those with symptoms of Covid-19. Indika could risk going to the emergency room, which was crowded with virus patients, but he'd probably just get more pain meds and be sent home.  "I wasn't going to increase my chances of catching Covid just to get more of the pills I already had," he recalls. The EMTs left, and Indika pondered his options.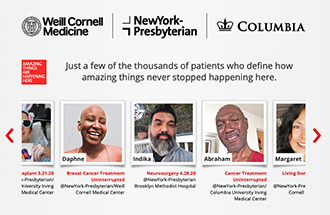 Indika featured on the NYP website as a patient treated during the pandemic
Now in unbearable pain, Indika called a friend who he thought could help. They connected Indika with their personal friend, Dr. Miran Salgado, a neurologist at NewYork-Presbyterian Brooklyn Methodist, who advised Indika to come in. An ambulance brought him across the bridge to Brooklyn, where he was tested for Covid-19 before being scheduled for an MRI. The results explained what Indika had been going through.
"The pain Indika felt was the result of a herniated disc," explains Dr. Louis Chang, the neurosurgeon who was called in to review the case. "As time went on, his nerve roots were being pinched and compressed. This led to the pain he was feeling in his back as well as the foot drop and paresthesia — the numbness he felt — in his left leg. As time passed, the severity of his condition could no longer be contained by the medicines he was being given."
Dr. Chang also has interesting timing – he had moved back to his home town of Brooklyn from Maryland just as the pandemic shut everything down. He was to start his new role as spine surgeon at NYP Brooklyn Methodist just as most spine surgeries were being postponed. 
"Covid-19 pushed the hospitals in New York City to their absolute limits," says Dr. Chang. "Patients could only be operated upon with prior approval." Only urgent surgeries were being approved, in order to preserve resources for virus patients, so instead of being scheduled for surgery Indika was presented to a panel of doctors for evaluation. His pain was so extreme, affecting his everyday functioning, that the panel agreed his case was urgent. "It took a couple of days for the approval, but he was scheduled for the following Tuesday," says Dr. Chang.
Indika did what many people do before surgery: he Googled the surgeon to see what other patients said. "Based on the reviews it was great!" Indika recalls. "I remember someone said, specifically, 'If I have a family member that needs any kind of spinal surgery, I wouldn't let anyone touch them except Dr. Chang! That's high praise! I felt confident once I read those reviews. And I felt even more confident when he came in and talked to me. He was a straight shooter — I felt like he knew what he was doing."
"The laminectomy and microdiscectomy I performed was through a microsurgical technique, which would shorten his hospital stay and help him recover faster," says Dr. Chang. "During surgery, I removed the lamina — the part of the vertebra that covers the spinal canal — the herniated disc fragment, and any excess ligament. This results in reduced compression on the nerves of the spine. Now he can work out to his heart's content after he recovers — and when gyms open back up!"
Indika returned home two days after his surgery. Due to the no-visitor restriction, he had been away from his wife the entire time. "I was okay, but my wife would have felt better if she could visit," he says. "The hospital staff was super nice," he recalls. "They checked on me constantly and being able to talk to people on the phone… all that helped."  
Once he was home, Indika was able to use telemedicine to speak with Dr. Chang and discuss his recovery. Those telemedicine visits allowed surgeon and patient to work together to find a muscle relaxer to help him sleep better while he recovered, and helped Dr. Chang monitor Indika's progress. 
Pandemic or no, Indika advises anyone going through the pain he felt to seek care. "Get the surgery. Even experiencing what I experienced, don't think twice and get it. If you'd ask me who to recommend, I'd definitely recommend Dr. Chang!"
More about Dr. Louis Chang | More about our services at NYP Brooklyn Methodist