A "Walking Time Bomb," Now Back on Track
You are here
A "Walking Time Bomb," Now Back on Track
Gary Felberbaum, an active and outdoorsy man in his early 60s from Trumbull, Connecticut, loves to play tennis, but when his back started bothering him in July 2015 he had to put his game on hold. "I had had lower back issues before, so I figured, okay, I'll do some stretches and it will go away," Gary recalls. But the pain got worse. By fall he was experiencing a burning sensation down both of his legs and had trouble walking. "It was like my body wouldn't let me walk," he says. "I could only walk slowly and after five minutes I had to stop."
With his wife, Gail, urging him to get help, Gary went to see a chiropractor and then an orthopedist, but to no avail. Massage, decompression, pain medication, and steroids didn't help alleviate the increasing pain and weakness in his legs and lower back. In November the orthopedist ordered both a lumbar and thoracic MRI, but they provided no answers. "He suggested I see a neurologist, since there was nothing he could really do for me," says Gary.
But the neurologist was perplexed too. "My symptoms were weird," says Gary. "I couldn't stand on my toes or heels, couldn't hop, and couldn't even walk in a straight line. I was completely off balance." The doctor ordered more tests, including a cervical scan that finally provided the answer: Gary's problem was not in his lower back at all, but in his neck. He had several bulging discs, putting severe pressure on the spinal cord and nerves of the spine — a condition called cervical spinal stenosis with myelopathy. Without surgery the compression and symptoms would only get worse, so Gary's next doctor visit was with a Connecticut neurosurgeon.
"The doctor said I was a walking time bomb, and that any accident or trauma to the spine could cause permanent damage to my spinal cord and maybe even result in paralysis," says Gary. "He said I was one fall away from being a quadriplegic, which terrified me."
Wanting a second opinion, Gary met with another neurologist, Dr. Jonathan Goldstein at the Hospital for Special Surgery, who confirmed the diagnosis and told him that yes, he needed a neurosurgeon — and fast. Dr. Goldstein referred Gary to Dr. Ali Baaj at the Weill Cornell Medicine Brain and Spine Center. "The stenosis was clear, and I wasn't looking for a different answer," says Gary. "I was looking for a doctor I felt I could trust. As soon as I met with Dr. Baaj, I knew he was the best choice. He was calm, reassuring, and clear-headed about what needed to be done."
Dr. Baaj agreed that Gary needed surgery right away. He recommended a posterior cervical laminectomy and fusion — a procedure in which the portions of the vertebrae are removed through the back of the neck, allowing the spinal cord to float freely again. Bone grafts are then inserted into the spine and held in place by rods and screws, which stabilize the neck and create a fusion of the vertebrae. As the neck heals, new bone grows around the screws and permanently fuses the vertebrae. "The concept is that the hardware holds everything in place until the fusion takes place," says Gary. "For the rest of my life, I'll have hardware and bone holding that portion of my vertebrae together."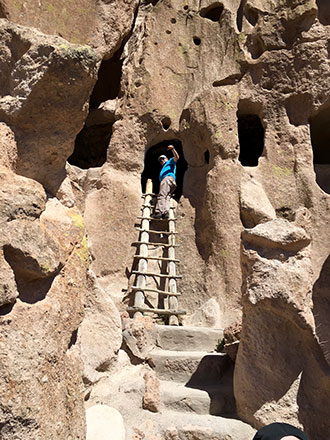 Just a few months after surgery, Gary was hiking — and climbing — in Bandelier National Monument.
The surgery was scheduled for December 22 — just four days after Gary's initial consultation with Dr. Baaj — and Gary's wife, daughter, and son were there to offer support. As Gary was prepped for surgery, ­­­Dr. Baaj calmly went over the procedure again. "He was so pleasant and calm — like he had done this a million times," Gary recalls. The surgery took several hours, but before he knew it Gary was awake in the recovery room, with a friendly nurse sitting next to him.
Gary felt great immediately. "The pain in my legs and back were gone," he says, "but I knew that the real test would be walking." The next day a specialist fitted Gary with a collar to support his neck, and then a physical therapist gently helped him take his first steps. "My wife and I were astonished," says Gary. "I was walking significantly better just 24 hours out of surgery than I had before surgery. I walked up and down the halls and eventually up and down stairs and had virtually no pain."
Three days after the operation, on Christmas Day, Gary was cleared to go home with instructions to continue wearing the collar for six weeks, removing it only for sleep and showers. "I worked from home during that time and took it easy, and had no problems," says Gary.
After three weeks, with the collar still on, Gary was able to drive again and return to work full-time. At his three-month checkup with Dr. Baaj, X-rays showed the hardware was solid and the bone grafts had begun. It all looked great, but Gary's gait was still a bit awkward due to residual leg weakness and some minimal but nagging lower back pain.
"It was much better, but it wasn't perfect," he says. Concerned that it might be related to Gary's earlier back problems (lumbar and thoracic disc herniations), Dr. Baaj suggested that Gary have physical therapy on his legs and lower back to avoid any more surgery. "I've seen amazing improvements with the therapy," says Gary. "My pain is now completely gone and my balance and strength are greatly improved. The surgery plus the physical therapy gave me a new lease on life."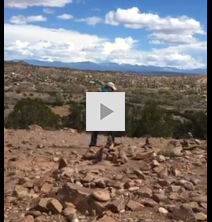 To celebrate his recovery, Gary and Gail took a hiking trip to New Mexico in April – just four months after his surgery. Gail took a video of Gary climbing the ladders around the pueblos in Bandelier National Monument with a hiking pack on his back, which Gary sent to Dr. Baaj to confirm what he already knew: Gary was back in action.
"Dr. Baaj gave me the ability to live again," says Gary. "I could barely walk upstairs before surgery, let alone do a vertical climb."
Gary continues to do muscle-strengthening exercises to facilitate the healing process. "I have to keep strengthening those areas that were weakened by neurological damage," says Gary. "And that's going to take time." Still, he's looking forward to playing tennis again this summer.
Looking back, Gary says he's very glad he got that second opinion, and that he found Dr. Baaj. "You need to go to a place where you can sense the confidence and the care of the physicians and staff," says Gary. "I immediately felt comfortable with Dr. Baaj and his nurse practitioner, Samantha Izat. I can't say enough good things about them."