Kennedy Lynne McConnell was only a few days old when her mother, Heather, a pharmacist from Long Island, noticed a bony ridge behind the baby's right ear. She also noticed what appeared to be a flat spot on the right side of Kennedy's head, and a slight head tilt.
Kennedy's pediatrician diagnosed deformational plagiocephaly and torticollis – a condition in which muscles in the neck are tight, causing a baby's head to tilt to one side. Because the tilt can cause an infant to favor one side while sleeping, it can create a flat spot. The doctor suggested physical therapy to loosen the muscles, along with repositioning to keep Kennedy from sleeping on her right side.
But two months later, despite physical therapy twice a week and constant repositioning, Kennedy's head was still tilted, and it looked even more misshapen. Concerned that it might be something other than torticollis, Heather started doing research and learned about craniosynostosis – a condition caused when one or more of the elastic bands connecting the bony plates of the skull fuse prematurely. Those bands normally allow the skull to expand along with the growing brain, and they don't fuse until the brain's growth is complete. If the skull's expansion is restricted in one direction, a baby's head shape is affected.
To Heather, Kennedy's head looked as if she may have lambdoid synostosis, one of the more rare forms of the craniofacial anomaly. Alarmed, Heather brought her findings to the pediatrician, and Kennedy was referred to be seen by a local neurosurgeon to get another opinion. As soon as she and her husband, Robert, brought Kennedy into the examination room, her fears were confirmed. "When the surgeon saw Kennedy, the first thing he said was, 'Oh, honey, you have a lambdoid synostosis, don't you?'" Heather recalls. "I immediately started crying, because I knew that meant surgery."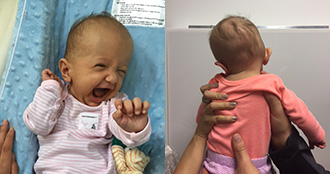 She also knew it meant time was critical. Surgery for craniosynostosis is best done within a few weeks or months of a child's life, when the skull bones are the softest and most malleable.  
Stunned and scared, Heather and Robert discussed Kennedy's options with the doctor, and then drove home in silence. "I stayed up all night reading articles, familiarizing myself with the various types of surgeries and locating the best neurosurgeons who treated craniosynostosis," says Heather. "What I found out was that if you wanted a world-renowned, highly experienced neurosurgeon, you should go to Weill Cornell."
The next morning, the couple took Kennedy to the local hospital for a follow-up CT scan to confirm the diagnosis. Heather called Weill Cornell Medicine from the waiting room. "From what I had read, endoscopic surgery for craniosynostosis, which sounded like the best option, had to be done before a child was four months old, and Kennedy was already three and a half months," says Heather.
The receptionist at Weill Cornell Medicine understood how time-sensitive the situation was. "She asked if we could get there by 1 p.m. that day,'" Heather recalls. "We literally jumped in the car and drove straight there."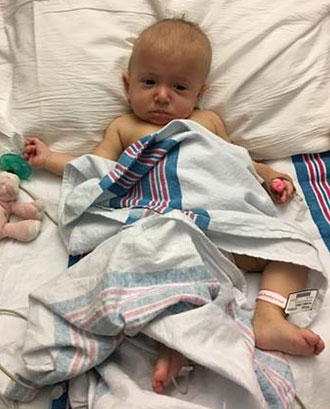 They made it to the hospital just in time. And as soon as they met pediatric neurosurgeons Dr. Caitlin Hoffman and Dr. Mark Souweidane, Heather knew they were in the right place. "Hearing them talk about Kennedy's prognosis in such a positive light was so comforting," she says. "It gave me the strength and motivation to fight it head on."
Lambdoid synostosis is the rarest form of craniosynostosis, Heather learned, present in only 1 percent of all cases of synostosis. It occurs when one side of the lambdoid suture fuses at the back of the head, causing the skull to appear flat on one side. The goal of surgery is to reopen the fused suture and "remodel" the skull to a normal shape. As an alternative to traditional open surgery, a newer endoscopic procedure is less invasive, with less blood loss, a shorter hospital stay, and faster recovery time. The endoscopic surgery, which requires a year of helmet remodeling therapy to reshape the skull, works best on young infants because their rapid brain growth helps reposition the cranial bones.
To Heather's relief, Kennedy still qualified for the newer, less invasive procedure. "Both Dr. Hoffman and Dr. Souweidane recommended that Kennedy have the endoscopic surgery with cranial helmeting," says Heather. "They were confident that the results would be amazing, and they were right."
The morning of the surgery Heather and Robert were hopeful, but terrified. "Seeing Kennedy in her hospital gown was heartbreaking," says Heather. "We held her as they did the surgery prep, just praying that this would all be over soon." When Dr. Hoffman walked in, Heather got even more emotional. "l told Dr. Hoffman to please take care of my baby and to do a great job, which sounds crazy to say to a surgeon, but I couldn't myself. Handing her over was the hardest thing I've ever had to do."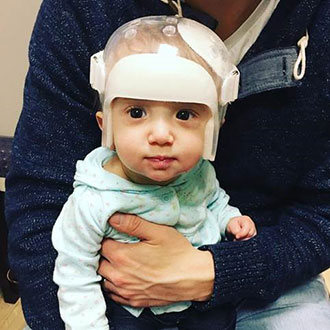 The couple sat anxiously in the waiting room during the two-and-a-half-hour procedure, until they received a text message from the operating room notifying them that the surgery was over. Dr. Hoffman appeared soon after to tell them Kennedy had done wonderfully and was in recovery. "We grabbed our things and ran to be by her side," says Heather.
Kennedy looked great. Although lethargic from the pain medication and hoarse from the intubation, she was eating well and her incision looked great. She was discharged from the hospital the next day. But that night, Kennedy stopped eating. A worried Heather called Dr. Hoffman, who encouraged her to bring Kennedy back to the hospital in the morning. The baby was readmitted for IV hydration, but was soon discharged again without any further complications.
Shortly after that Kennedy was fitted for her first helmet, which she would need to wear for up to a year to reshape her head as she grew. It took Kennedy a few days to adjust to wearing the helmet, but Heather says that after the third day, it was as if she didn't even know it was there.
"I was concerned that it might affect her ability to reach her milestones, given the added weight of the helmet," she says, "but despite it, she met all of her goals on time, or even early. We were very fortunate to work with an amazing orthotist as per our surgeon's recommendation, and were very happy with the entire process."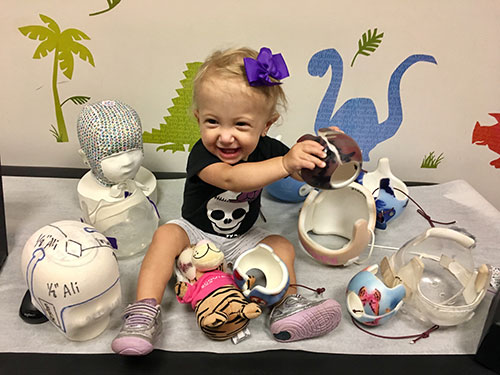 Heather was also glad for the opportunity to educate others about craniosynostosis – an opportunity she had often, as she and Kennedy were asked about the helmet quite a bit while out in public. "One child told her she looked like an astronaut, which I thought was adorable!" says Heather.
Meanwhile, Heather joined a Facebook support group for craniosynostosis and met other parents who were in the same situation. "Together we were able to share our stories and navigate this road together," she says. "I found comfort in their success stories, and learned from their advice. Especially since Kennedy's form of synostosis is so rare, and there is little data about it, it connected me to other parents who had gone through this process and helped me to make some difficult decisions. Now I am able to help other parents who were once in my situation."
More about craniosynostosis
More about Dr. Hoffman
More about endoscopic remodeling
For more information about the Craniofacial Program, please contact:

Michelle M. Buontempo, MSN, RN, CCRN, CPNP
Craniofacial Program Coordinator
Weill Cornell Medicine
Pediatric Brain and Spine Center
525 E. 68th Street, Box 99, Room 2206
New York, NY 10065
Phone: 212-746-2363 
Email: mib9104@med.cornell.edu