Paul Greengard, 1925-2019: An Appreciation
You are here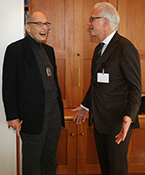 Monday, April 15, 2019 - 09:15
The entire faculty and staff of the Weill Cornell Medicine Brain and Spine Center mourn the passing of Nobel Prize-winning neuroscientist Paul Greengard, PhD, who died Saturday at age 93. Dr. Greengard was Vincent Astor Professor and head of the Laboratory of Molecular and Cellular Neuroscience at Rockefeller University as well as the director of the Fisher Center for Alzheimer's Disease Research.
I am personally and professionally saddened to learn of Dr. Greengard's passing. He was one of the driving forces behind our understanding of how brain cell communicates – truly one of the great minds in neuroscience. And we had strong professional and personal connection with him as well, through collaborations between his laboratory at Rockefeller and ours here at Weill Cornell.  
Dr. Greengard was awarded a Nobel Prize in Physiology or Medicine in 2000 for his discoveries about chemical messaging in the brain and the role it plays in movement disorders such as Parkinson's disease and mental health conditions, including schizophrenia and bipolar disorder. His work inspired hundreds of other scientists to continue and expand on his findings, and his influence is widely acknowledged in neuroscience.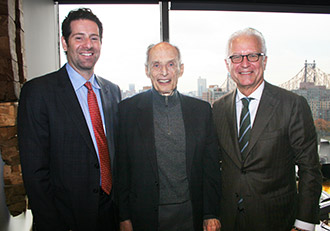 Dr Michael Kaplitt, Dr. Paul Greengard, and Dr. Philip Stieg in Dr. Greengard's office at Rockefeller University, 2015
"He was a giant in molecular neuroscience and also a personal friend and mentor to me," said Michael Kaplitt, MD, PhD, Vice Chair for Research and Professor of Neurosurgery at Weill Cornell Medicine Neurosurgery, who co-authored more than a dozen academic papers with Dr. Greengard. "Our work together studying the role of p11 in various neurological and psychiatric disorders has been a highlight of my career," Dr. Kaplitt added.  "He also had a unique appreciation for the role of surgeon-scientists in studying brain diseases, and was incredibly generous with his time and mentorship to many of the residents and fellows in our department.  We will deeply miss both his insights and his incredible sense of humor, which was legendary."
Jeffrey Greenfield, MD, PhD, Vice Chairman for Academic Affairs and Associate Professor of Neurological Surgery at Weill Cornell Medicine Neurosurgery, studied under Dr. Greengard during his MD/PhD training and also collaborated on many research papers with him. "His oversight of my scientific training during a critical phase of my career— including a memorable full-day line-by-line review of my PhD thesis shortly after he broke his leg— has been an indelible memory for me, and a powerful reminder for me of the importance of mentorship," said Dr. Greenfield. "No matter how famous and busy he became, he always had time for his students and trainees."
Dr. Greengard was also devoted to increasing diversity in scientific research. He received a $400,000 award as part of his Nobel Prize and used it to found the Pearl Meister Greengard Prize for women in biomedical research, in honor of his mother, who died while giving birth to him.  Among the many distinguished winners of the Greengard Prize were Elizabeth Blackburn and Carol Greider, who went on to win the 2009 Nobel Prize in Physiology or Medicine.
We are grateful to Dr. Greengard for his many years of ground-breaking research as well as his dedicated mentorship of the next generation of neuroscientists.