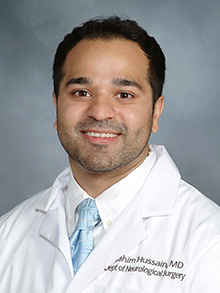 Thursday, April 16, 2020 - 15:30
I began my seven-year neurosurgical training program in 2013, so by March of this year I was just about done – then the pandemic changed everything. NewYork-Presbyterian is the top-rated hospital in the city and one of the best in the country, and the emergency rooms and ICUs started filling up quickly with Covid-19 patients. Every health care provider in the hospital was put on notice that this was an all-hands-on-deck effort. No matter what department we normally worked in, we should be prepared to be called upon to care for these patients. In military parlance, we could be redeployed to the front lines — and I was.
Overnight I went from being a senior resident to being an intern again – my direct supervisor in my new assignment is a fourth-year resident in anesthesiology. One day I had authority over junior residents and commanded respect in the operating room, the next I was learning critical care medicine and ventilator management as fast as I could. Like other specialists reassigned to treat Covid-19 patients, I checked my ego at the ICU door and got to work.
The scene at the Weill Cornell campus of NewYork-Presbyterian is overwhelming in every way. The sheer number of patients is staggering – much of the hospital is now one enormous Covid-19 unit, as non-Covid patients were relocated to other hospitals, like the Hospital for Special Surgery across the street. I've been amazed at how quickly it all happened. Knowing what was coming our way, starting back in January and February the hospital was developing plans for converting just about every unit into an ICU. It's been a marvel of logistics and engineering – even our operating rooms have been turned into ICUs, with all the machinery and personnel that requires.
The scene can be best described as controlled chaos. Every patient in our 28-bed unit is Covid-positive, has a breathing tube, is on heavy amounts of sedatives to the point of paralysis, and gets life-supporting infusions of blood pressure medication. Some are even flipped facedown on their belly, a sight you wouldn't normally see in an ICU. Multiple times a night patients can develop cardiac arrhythmias or drops in blood pressure that force us to prepare for emergency CPR.
My nurse tonight is normally a chemotherapy infusion nurse at an outpatient clinic. But for our patients on this particular evening, we're both pulmonary critical care healthcare providers doing the best we can. We're still fortunate that at least at an academic powerhouse like Weill Cornell, there are plenty of lung experts around us for guidance in these critical moments.
This is one of the most difficult experiences I've ever had. After seven years of neurosurgical training, you become accustomed to having life-and-death conversations with patients and families. These are almost always done face to face, so you can look them in the eye and express your seriousness and empathy. But now patients are being lost every shift, with no family in sight. In fact, family members are not even allowed in the hospital — for their own protection as much as ours. It's really tough that so many patients have to die alone, without a loved one at their bedside.
So much of this pandemic has involved solitude – the patients are alone in their rooms, no visitors allowed, and all over the city people are confined to their homes, some sick and others trying to stay well. Along with many of my colleagues on the front lines, I'm getting a taste of that solitude myself. My wife and I have two small children, and I can't risk bringing the virus home with me. I'm staying at a hotel not far away from the hospital, and except for FaceTime visits I haven't seen my family in several weeks. It will be at least several more before I will feel safe enough to go home. I'm grateful for the hotel option that protects my family, but the solitude weighs on me, as I know it does on so many people.
On the other hand, this is one of the most gratifying things any doctor could ever do. I am needed every minute of every shift in an immediate, urgent way that gets me back to the basics of why I chose medicine as a career. Fate has put me in one of the largest hospitals in the largest city in the United States, at the epicenter of this historic pandemic, and given me a unique role to play. I couldn't be more grateful to have that opportunity, and to be entrenched with my co-residents, PAs, NPs, nurses, and attending physicians who have battled with me since Day One.
If the worst of this scourge is over by summer, I'll be heading down to the University of Miami to begin a yearlong fellowship in spine surgery. I may never have to adjust a ventilator's settings ever again in my career – but it was a humbling, gratifying, truly remarkable experience to have been on the front lines here.
Dr. Hussain talked about his experiences on the Covid-19 front lines on the Neurosurgery Podcast. Listen to the podcast below.