The Skull Base Lab
You are here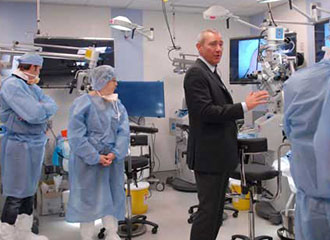 The Surgical Innovations Laboratory for Skull Base Microsurgery at the Weill Cornell Medicine Brain and Spine Center (informally known as "the skull base lab") is a state-of-the-art educational facility that integrates exquisite cadaveric dissections, 3D visualization, virtual reality, and computerized simulation for training surgeons and residents in visiospatial skills and advanced surgical procedures needed for treating complex lesions at the skull base.
Under the direction of Neurosurgeon-in-Chief Philip Stieg, PhD, MD, and lab director Antonio Bernardo, MD, and with the participation of Dr. Theodore Schwartz, the skull base lab provides unique training opportunities not only for our own residents but for neurosurgeons around the world who can attend lectures and continuing medical education courses in person or via international teleconferencing sessions.
The skull base lab features stereoscopy and three-dimensional representation to improve trainees' conceptual grasp of complex anatomy, and to practice procedures in a safe environment where mistakes do not have dire consequences. Dr. Bernardo developed the unique "interactive virtual dissection" (IVD) technology that allows a trainee to study and practice a transpetrosal approach or other cranial base surgical technique in a 3D simulation.
Lesions of the skull base present unique challenges to neurosurgeons, who must perform intricate procedures within the smallest recesses of the brain. These procedures require a high degree of dexterity as well as a thorough understanding and visual grasp of the complex anatomy of the anterior skull base and complex middle and posterior fossa surgical approaches.
Our faculty members are internationally known experts in skull base surgery and have published journal articles, book chapters, and educational materials on the complex procedures required. They lecture around the world, bringing their unique talents and knowledge to neurosurgeons throughout the western hemisphere as well as in Europe, Asia, and Africa.
Four times a year, the skull base lab is host to the annual "Surgical Approaches to the Skull Base" workshop, which attracts students from around the globe to study under the highly skilled faculty of the Weill Cornell Medicine Brain and Spine Center. More about the Surgical Innovations Lab and its offerings.
Find out more about the Skull Base Surgery Program
Find out more about our Continuing Medical Education courses
More about Dr. Bernardo