next
prev
Welcome to the Surgical Innovations Lab

Surgical Approaches to the Skull Base

The Director
Antonio Bernardo M.D., is an expert in skull base and vascular surgery and in the understanding of microsurgical anatomy. He is a pioneer in developing three-dimensional surgical simulators to teach surgeons the visual-spatial skills required to perform skull base surgical approaches. Dr. Bernardo has trained more than 4,000 surgeons and 35 fellows through his international courses. About Dr. Bernardo
The Mission

We are committed to the advancement of the art and science of neurological surgery through excellence in research, education, and the maintenance of scientific and clinical scholarship. We provide educational opportunities and training for surgeons and medical students from around the world, and offer educational activities that contribute to improved surgical practice and clinical research.
Find out more about the lab >
A Virtual Lab Tour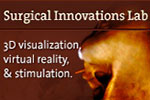 The unique 3D capabilities of the Surgical Innovations Lab come alive in this interactive experience exploring our world-class training facility.
Virtual Tour (Adobe Flash required) >
Continuing Education Courses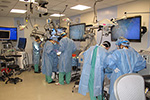 Our courses cover state-of-the-art techniques in minimally invasive neurosurgery, and transcranial and endoscopic approaches to the skull base. More about our courses >