Focused Ultrasound for Tremors
You are here
Focused Ultrasound for Tremors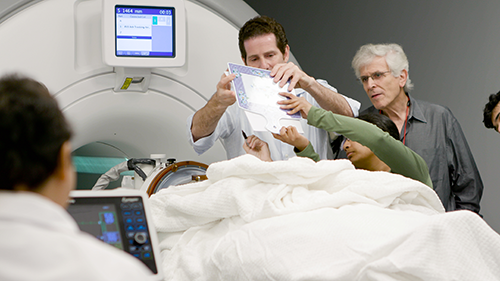 What Is It?
High-intensity focused ultrasound is an advanced treatment that uses 1,000 precisely targeted beams of ultrasound energy to converge on a single, minuscule spot in the brain that is causing symptoms, particularly tremors. Dr. Michael Kaplitt, a pioneer in the use of this treatment for essential tremor, is now performing it routinely on patients with essential tremor. He is also testing it for symptoms of Parkinson's disease as well as testing its use on the second side of the brain on patients already treated on the first side. One of the most experienced neurosurgeons in the world in the use of focused ultrasound for essential tremor, Dr. Kaplitt performs the procedure multiple times every week with excellent results.
What's New: Dr. Kaplitt continues to treat new patients and is also enrolling previously treated patients in a new clinical trial on the second side of their brain. Call 212-746-4966 for an appointment or email neurosurgery-fus@med.cornell.edu for more information.
The Background:
In July 2016 Dr. Michael Kaplitt became the first doctor in New York to use high-intensity focused ultrasound after the FDA approved it for use against essential tremor. The technology is a new way to eliminate the source of tremors in a completely non-invasive way. Since then, Dr. Kaplitt has performed the procedure on many more patients, including CEO Alexandra Lebenthal, with great success. The links below provide more information about the procedure.
Dr. Kaplitt First in New York to Use Focused Ultrasound for Essential Tremor
Blog Post: New Hope for Movement Disorders
Steady Hand: New Treatment Offers Relief for Patients With Essential Tremor
WCM NEWSROOM: Patient Alexandra Lebenthal Looks to MRI-Guided Ultrasound Treatment to Relieve Tremors
Listen: Alexandra Lebenthal and Dr. Kaplitt were featured on an episode of Dr. Stieg's podcast, This Is Your Brain With Dr. Phil Stieg:

Read: Dr. Kaplitt has published many peer-reviewed articles on focused ultrasound. See those articles here
Watch:


The video below, provided by the device manufacturer, shows how the procedure works:


Listen: POPULAR SCIENCE RADIO