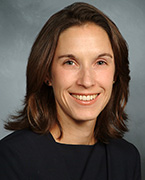 Tuesday, January 31, 2017 - 13:45
As a pediatric neurosurgeon, a large part of my job involves talking with anxious parents about their child's upcoming surgery, and carrying families through a process they are never truly prepared for. As a parent myself, I cannot imagine how terrifying it is to face the kind of serious health threat that would bring a child to a neurosurgeon, or what it must be like to place your child's life in someone else's hands. My most valuable mentors have taught me the significance of this aspect of our role and responsibility. Beyond the technical and clinical facets of how we approach the cases and diseases that present themselves, and behind each case, is an incredibly valuable life — one that we are given the privilege of helping in some way.
Recently the tables were turned on me, and while I was in the familiar position of counseling and caring for a family, this time my patient was not a child but a mother. It happened during one of the few weeks each year when I am also on call for adult emergencies, and it started several miles away at our NewYork-Presbyterian/Lower Manhattan Hospital. 
A pregnant woman, K.C. Kriegel, had arrived in the emergency room complaining of neck pain and sudden numbness in her upper extremities. An MRI showed a large blood clot in her neck, between the bone surrounding her spine and the spinal cord itself, compressing the cord and causing her symptoms. The only treatment that would protect her from progressive injury to her spinal cord was surgery to remove the hematoma itself as well as the bone overlying the clot. It was imperative that she be moved immediately to the Upper East Side campus of Weill Cornell Medicine and NewYork-Presbyterian for the complex surgery.
The obstetrical surgical team would need to deliver the baby first and then turn the patient face down, so I could reach the back of her spinal cord to perform my part of the procedure. She was rushed to our campus and taken directly to the operating room, where both obstetrical and neurosurgical teams were set up and waiting for her.
Luckily K.C. was full term, so surgical delivery posed minimal additional risk to the fetus. Of course this was little comfort to a woman whose sole focus that day was protecting her child. This was K.C.'s first pregnancy, and she and her husband, Connor, had been preparing for one of the most momentous days of their life. This turn of events was entirely disorienting and terrifying, not to mention that the rapidity of the necessary intervention allowed them no time to process and prepare.
I had performed this operation countless times, so the technical aspects of the surgery were not the challenge for me. The challenge was instilling confidence in K.C., Connor, and their parents, who were all poised for this to be the most joyous day of their lives. I wanted them to maintain focus on what was the most important part of this night, which was the birth of their daughter and granddaughter. Their attention needed to remain on the entrance of this new life, not on the procedure that would serve to protect her spinal cord and ensure that she would have use of her arms and legs.
For surgeons in the OR, it is imperative to compartmentalize the pathology we need to treat in order to remain focused, efficient, and effective. Before the surgery, however, it is even more essential that we connect with our patients and their families, that we set our own compass in line with the reasons that we do what we do, that we address risk and place it in the context of our skill and expectations, that we answer questions, acknowledge fear, and ultimately return the focus and emotion to one another and to the patient, having gained understanding and confidence in what needs to take place in the operating room.
I met Connor and the grandparents-to-be before the surgery in order to do just this. Once baby Beatrice was safely in this world, I met with them again in the hall around her isolette, to share in their joyful tears and to transfer my composure and assurance to them. This time Connor only looked up at me once, his attention riveted on his daughter, indicating to me that I had succeeded in gaining his trust and allowing him to focus, at least for a few precious seconds, on this joyful moment.
K.C.'s surgery was uneventful and a few hours later she was safely in the neurosurgical ICU, now able to continue with the overwhelming and fulfilling task of becoming a new mother.    
After she was discharged, K.C. wrote a letter to the hospital's CEO about her experience, and she individually thanked no fewer than 15 team members by name – including OR nurses, technicians, ICU nurses, doctors. The fact that she knew all of these people individually testifies to the highly personal connection that occurs during an emergency such as this. It also makes me grateful to work with such an enormously talented team, for whom saving lives is all in day's work.