Bronxville Road Race for the Children's Brain Tumor Project Raises $100K
You are here
Bronxville Road Race for the Children's Brain Tumor Project Raises $100K
The inaugural running of The Bronxville Road Race on September 13 raised an amazing $100,000 to support the Children's Brain Tumor Project. More than 500 participants, and hundreds more donors, sponsors, and volunteers came together in the spirit of the project's "powered by families" motto. Congratulations to overall winner Josh Hibbs of Yonkers, and to everyone who came across the finish line for us. (Get full results here. If you won an award but were not there to pick it up, please email us at info@childrensbraintumorproject.org to arrange delivery.)
Don't forget to pick up your finish line photos,
or browse the gallery of photos from the day.
Photo gallery closes on October 31, so order now!
Watch a video of the event: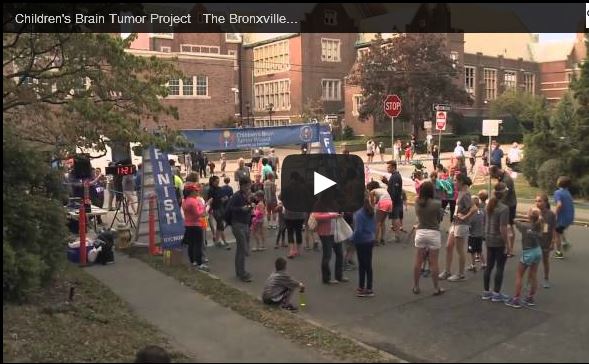 Please accept our deepest thanks to all who participated or helped, especially those who raised so much more than the $250 we had asked for. The following 18 people and teams raised more than $1,000 each, for a total of almost $40,000!
Top Fund-Raisers
Team Denison
Debbie Scully
Stacy Ulahel
Emma Hill
Shoshana Aminov
Jacqueline Paige Grand Pre
Licia Hahn
Jill Fisher
Ashley Mestl
Karen Driscoll
Kaitlin McTigue
Maria Gratton
Cindy Rajacic-Peiliker
Laura Romeo Sobel
Anna Mudrick
Mimi Greenfield
Tori Flannery
Eli Bunzel
Thank you, thank you, thank you!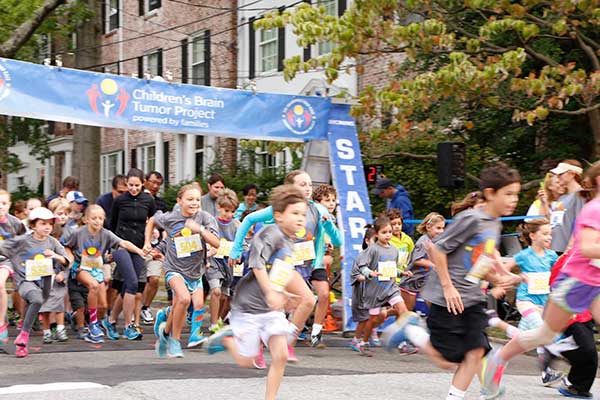 Raffle Winners
Congratulations to the winners of the Elizabeth's Hope raffle! If you were not present at the time of the drawing, we'll be getting your prize to you in the mail soon. The winners were:
Cocktail plates donated by Bloomingdales: A. Hoogkamp
SoulCycle gift card: Barbara Taylor
Maison Rouge gift certificate: Mark Souweidane
Fabio's Hair Salon gift card: D. McCaffrey
Underhills Crossing gift card: Alexandra Howson
Gretchen Scott shopping spree (two winners)
Louanne Mitchell
A. Gold
One-week stay in a luxury villa in Mexico, donated by Inspirato: Mimi Greenfield (and no, it was not a fix — we have witnesses to the drawing!)
If you were not present at the time of the raffle, your prize is being mailed this week, so you should receive it by October 15. Thanks again to all who helped create a day of hope, even as we mourned the children lost to these terrible tumors.
Race Results | Photo Gallery | Children's Brain Tumor Project