February 28, 2019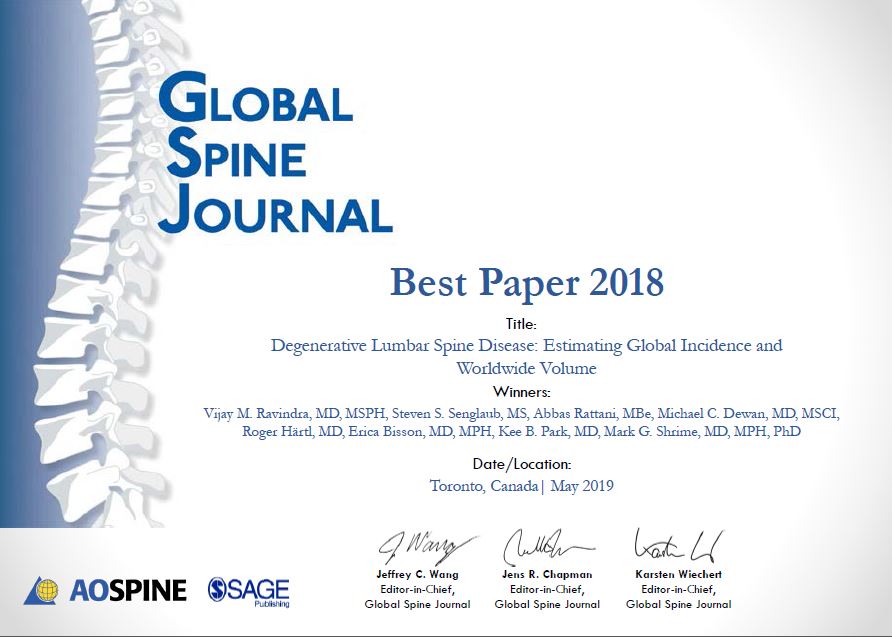 Dr. Roger Härtl has been named winner of the Best Paper 2018 Award from the Global Spine Journal (GSJ). The paper, titled "Degenerative Lumbar Spine Disease: Estimating Global Incidence and Worldwide Volume" will be presented and awarded at the Global Spine Congress in May 2019 in Toronto, Canada. It was published in the April 24, 2018, issue of Global Spine Journal (see the abstract and download the PDF here).
The paper, co-authored by Drs. Vijay M. Ravindra, Michael C. Dewan, Erica Bisson, Kee Park, Mark G Shrime, and researchers Steven S. Senglaub and Abbas Rattani, focuses on degenerative lumbar spine disease (DSD) as a common cause of disability. Dr. Härtl and his co-authors sought to quantify the incidence of DSD and how many people suffered from the condition across World Bank income groups and World Health Organization regions. They found that 3.63% of the population have degenerative lumbar spine disease and lower back pain, which totals to 266 million individuals. The highest affected region was Europe; the lowest was in Africa.
Lumbar spine disease is a condition that can cause lower back pain and is typically aggravated when sitting. Physical activity can worsen the symptoms. Dr. Härtl and his co-authors' findings are the first steps in mounting a response to address DSD across the globe.
The GSJ is an open access, peer-reviewed journal that focuses on the study and treatment of spinal disorders. It focuses on operative and non-operative surgical treatments & techniques. GSJ also writes about emerging clinical and research developments.