Brain Tumors in Adults
You are here
Doctors Who Treat Brain Tumors in Adults
Doctors Who Treat Brain Tumors in Adults
A patient diagnosed with a brain tumor should be treated by a multidisciplinary team that includes neurosurgeons, neurologists, neuro-oncologists, neuroradiologists, neuropathologists, radiation oncologists, physical therapists, social workers, and other specialists with advanced training and extensive experience in brain tumors. The Weill Cornell Brain and Spine Center offers the services of some of the top surgeons in the field as well as access to a full range of specialists in all the disciplines a patient needs. (See also: Doctors Who Treat Brain Tumors in Children.)

Philip E. Stieg, Ph.D., M.D., the chairman and neurosurgeon-in-chief of the Weill Cornell Brain and Spine Center, leads the cerebrovascular team. Dr. Stieg is one of the top neurosurgeons in the nation, having been named one of America's Top Doctors by Castle Connolly each year since that designation was created nearly two decades ago. Dr. Stieg has developed an international reputation in the area of cerebrovascular disorders and surgery; his work has been broadly published, and he has contributed to groups such as the Joint Sections of Cerebrovascular Surgery of the American Association of Neurological Surgeons and Congress of Neurological Surgeons (AANS/CNS). He is the past President of the Society of University Neurosurgeons and has received multiple awards and honors for his work. (Read more about Dr. Stieg.)

Theodore H. Schwartz, M.D. specializes in the surgical treatment of brain tumors, pituitary tumors, and epilepsy surgery using the latest techniques in computer-guided surgical navigation, minimally invasive endoscopy, and microsurgery. Dr. Schwartz has been named to the lists of New York's Super Doctors, Best Doctors in New York, America's Top Surgeons, America's Best Doctors, and America's Best Doctors for Cancer. (Read more about Dr. Schwartz.)

Susan Pannullo, M.D. is board-certified in both Neurology and Neurological Surgery and specializes in stereotactic radiosurgery. Dr. Pannullo is one of the few neurosurgeons in the United States with access to Brainlab iX, Gamma Knife, and CyberKnife, all of which allow non-invasive treatment of AVMs and other conditions of the brain and spine. (Read more about Dr. Pannullo.)

Rohan Ramakrishna, M.D. is an award-winning neurosurgeon who specializes in the treatment of brain tumors and other central nervous system tumors. Dr. Ramakrishna treats patients with gliomas, metastatic disease, skull base lesions, and pituitary disorders. He employs advanced awake mapping, imaging techniques, and microsurgery to ensure maximal tumor removal and achieve the safest possible surgical outcomes. (Read more about Dr. Ramakrishna.)

Samuel C. Kim, M.D. is a board-certified neurosurgeon who has been in practice for 10 years. Dr. Kim has expertise in complex spinal surgery, brain tumors, peripheral nerve surgery, and vascular diseases of the brain and spine — including aneurysms, arteriovenous malformations, carotid occlusion, and stroke. He sees patients at our Lower Manhattan office. (Read more about Dr. Kim.)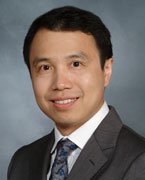 Ning Lin, M.D. brings a unique combination of neurosurgical and endovascular experience in treating a wide range of vascular diseases of the brain and spine. He has published multiple articles in peer-reviewed medical journals and presented in national neurosurgery conferences on the topic of brain tumors. Dr. Lin sees patients and performs surgery at NewYork-Presbyterian/Weill Cornell Medical Center and NewYork-Presbyterian/Queens. (Read more about Dr. Lin.)
Babacar Cisse, M.D., Ph.D., Leon Levy Research Fellow at the Feil Family Brain and Mind Research Institute, is an award-winning neurosurgeon with special expertise in brain and spinal tumors. He utilizes advanced neuro-navigation, ultrasound, imaging, motor and speech mapping, and endoscopic and minimally invasive techniques to achieve the best possible outcomes for his patients. A native of Senegal, Dr. Cisse received his Bachelor's Degree in Chemistry from Bard College, then his combined MD/PhD degrees with Distinction from Columbia University in New York. (Read more about Dr. Cisse)
At NewYork-Presbyterian Queens:

Rupa Gopalan Juthani, M.D., is an award-winning neurosurgeon who specializes in tumors of the brain and spine. Dr. Juthani has expertise in a wide range of oncologic conditions including brain metastases, gliomas, and pituitary adenoma. Dr. Juthani also specializes in the treatment of spine tumors, including minimally invasive approaches and spinal radiosurgery. Dr. Juthani has unique training in laser surgery, radiosurgery, and robotic surgery, and is part of a multi-disciplinary treatment team that provides integrated care for her patients. Dr. Juthani sees patients at her office in Forest Hills and performs surgery at NewYork-Presbyterian Queens in Flushing and at NewYork-Presbyterian/Weill Cornell Medical Center in Manhattan. (Read more about Dr. Juthani.)
Use our online form to request an appointment with any of these doctors.
At Weill Cornell Brain and Spine Center, our neurosurgeons are highly skilled in the most advanced minimally invasive procedures for treating brain tumors. Our relationship with NewYork/Presbyterian Hospital allows our surgeons access to the very best facilities and specialists, as well as the most leading-edge research laboratories, to ensure that you get the best treatment available.
Request an Appointment | Refer a Patient