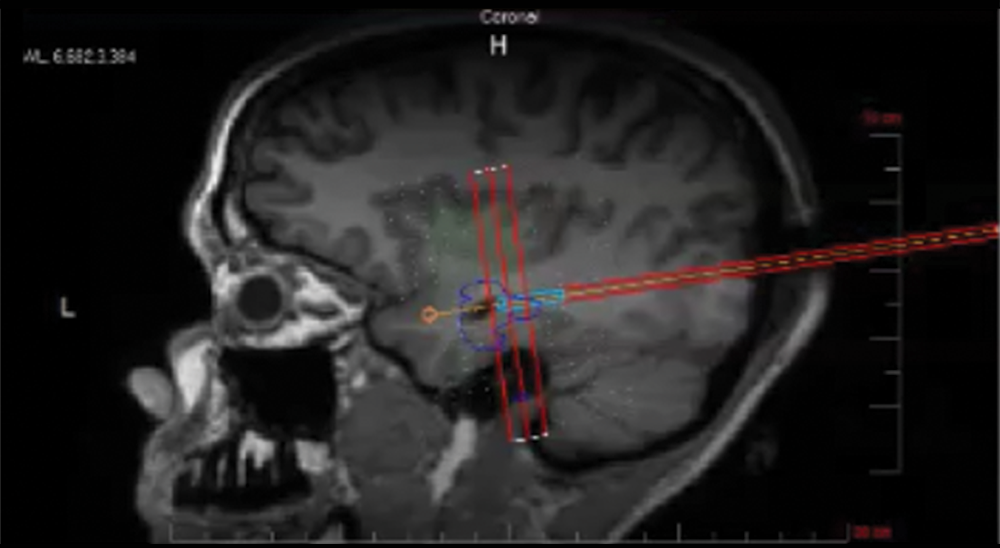 The Laser Surgery Program at the Weill Cornell Medicine Brain and Spine Center uses state-of-the-art laser interstitial thermal therapy (LITT) to treat patients with certain brain lesions using tiny beams of light instead of radiation. These beams heat the lesion and destroy it without damaging surrounding healthy brain tissue, without subjecting patients to the potential side effects of radiation.
Laser ablation represents the latest generation of minimally invasive neurosurgery and is an advanced new option for patients with certain kinds of epilepsy, brain tumors, and other lesions. For epilepsy patients whose seizures are not well controlled by medication, and for brain tumor patients seeking a less invasive surgical approach, laser surgery can be an effective option in cases where open surgery may carry significant risk due to the location of the lesion or a patient's other medical problems.
During a laser procedure, the neurosurgeon creates a small opening in the skull with a twist drill – barely a tenth of an inch in diameter, no craniotomy required – and inserts a tiny laser probe. Using MRI guidance to ensure the most precise placement possible, the surgeon delivers the fiber probe to the target. Real-time temperature maps allow the surgeon to monitor the area being heated during the procedure to destroy the lesion without damaging healthy brain tissue around it.
Laser surgery for epilepsy is currently available for those patients whose seizure focus is well localized and who have not been able to manage their seizures using medication. Laser surgery for brain tumor patients is available depending on the location, size, and stage of the tumor. Outcomes for patients undergoing this new advanced procedure have been excellent, although long-term results will need to be studied over the coming years. 
The Laser Surgery Program is staffed by specially trained neurosurgeons from the Epilepsy Surgery and Brain Tumor services at the Weill Cornell Medicine Brain and Spine Center. Our Epilepsy Surgery service is part of the widely acclaimed Comprehensive Epilepsy Center at NewYork-Presbyterian/Weill Cornell Medical Center. Nationally recognized for its pioneering achievements in research and clinical innovations, the Comprehensive Epilepsy Center provides a multidisciplinary approach to the complex medical and social needs of patients with seizure disorders. The Weill Cornell Medicine Brain Tumor service offers comprehensive state–of–the–art treatment for brain and spinal cord tumors in adults and children. Our experts are well versed in a variety of advanced surgical and non–surgical techniques, including a wide range of clinical trials, to treat these tumors.
More about Epilepsy Surgery | More about the Weill Cornell Brain Tumor Center
Request an Appointment | Refer a Patient