Martin Silberman, 66, of Brooklyn, New York, leads a pretty exciting life. By day he's an attorney fighting for tenants' rights, and by night he's a drummer in a band with one of his college friends. Just a few months ago he never would have imagined that a cyst above his wisdom tooth would lead to a tumultuous saga of three operations and a life-threatening brain infection — but thanks to Dr. Babacar Cisse and a team of doctors at Weill Cornell Medicine and NewYork-Presbyterian, Marty is back on his feet.
Many people have their wisdom teeth removed without much drama, but Marty's case was a bit more complicated. He had a cyst above one wisdom tooth, so he had his extraction done at a nearby hospital's maxillary surgery department. At his post-op checkup, doctors told him that everything looked okay.
Unfortunately for Marty, however, he was not okay — shortly after that visit, he started to feel unwell. "I didn't know exactly what it was," he says, "but I was having incredible chills in my feet along with a fever." His vision was affected as well. "My left eye started to close due to all the inflammation around my eye. Eventually, it was completely closed," he remembers. Marty didn't know it yet, but his doctors had missed an infection that was spreading fast.
Unsure of what was happening, Marty opted to not go back to the original hospital. Instead, on New Year's Eve, he went to the emergency department at NewYork-Presbyterian/Weill Cornell Medical Center. An ear, nose, and throat specialist took some scans and saw the infection in his sinuses, so Marty had surgery to clear the infection. The anesthesia left Marty feeling woozy and uncomfortable, but he had his family by his side to keep a watchful eye on him.
"After the surgery, I heard in the background the words that were being said," Marty remembers. "But I had no real notion of what was going on." His family got the word: After the sinus surgery, doctors had discovered that the infection hadn't stopped there — it had spread to his brain. This development required a doctor with a different area of expertise.
Enter Dr. Babacar Cisse, an expert neurosurgeon widely known for his compassionate care. He immediately made an impact on Marty, who thought, "I was very lucky to have been placed in his hands."
Dr. Cisse explained the situation carefully, Marty recalls, but "I had no real notion of what was going on," so Dr. Cisse took his time explaining everything to Marty's family. "He never seemed to be in a hurry to get out of the room," Marty remembers. He valued that Dr. Cisse clearly understood that the family needed time with him — that he was providing care and comfort to more than the surgical patient himself. The family was stunned to hear that the infection had spread up through the sinus cavity and entered his brain.
Bacteria will follow any path that's available, Dr. Cisse explained, and the infection had spread from the maxillary sinus behind the nose up to his sphenoid and frontal sinuses, where it had latched onto the frontal lobe of Marty's brain. Dr. Cisse would have to perform a craniotomy – removing the front portion of Marty's skull – to reach the infection and clear it out. As Dr. Cisse puts it in his mild, understated manner, "Marty was a very, very sick man when I met him."
As Dr. Cisse talked to him, Marty admits, "A lot of it went over my head, but it doesn't matter." What mattered most to him was that he had established a connection. "Throughout the day, teams of doctors would come in to check in on me, but somehow when Dr. Cisse walked in it was the highlight of my day."   Marty's family felt similarly confident in Dr. Cisse. Marty remembers his son saying, "Dad's got the right doctor—Dr. Cisse is the doctor you want at NYP!"
On the day of surgery, Dr. Cisse was there to reassure Marty's family as he was taken into the operating room. The surgery was complicated:Dr. Cisse performed the craniotomy to reach the infection that had plagued him, then had to reconstruct the skull base to prevent any leaks of cerebrospinal fluid. During the surgery it became clear that some of the bacterial infection was tracking along blood vessels in his brain as well, meaning that Marty would need a strong course of antibiotics after the surgery to prevent any further spread.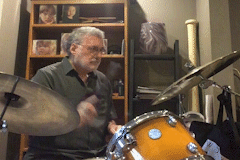 The surgery was successful, and Marty's recovery has been steady. He's walking around the neighborhood, going up and down Brooklyn's brownstone steps, and feeling better every day. He took an extended break from the band, for fear of creating another headache, but after a few months of recovery he finally sat down at his jazz drums and played – and it felt great.
A thankful Marty quips, "I jokingly told my family that from now on, I'm bringing all my business to NYP — I can't imagine going anywhere else!"
More about the Weill Cornell Medicine Brain and Spine Center