Metastatic Brain and Spine Tumors
You are here
Metastatic Brain and Spine Tumors
A metastatic brain or spine tumor, also called a secondary tumor, is one that originated in another cancer elsewhere in the body and spread to the central nervous system. Tumors that commonly spread to the brain and spine include breast, lung, skin, colon, and kidney. It is not unusual for a patient who experiences metastasis to develop two or more brain and spine tumors.
Metastatic brain tumors are the most common type of brain tumors diagnosed in adults. (This is in contrast to pediatric brain tumors, which – although rare – are more likely to be primary tumors.) The process of metastasis is not completely understood, but researchers believe that cancerous cells from a tumor site use the circulatory systems to spread to a remote site in the brain or spine.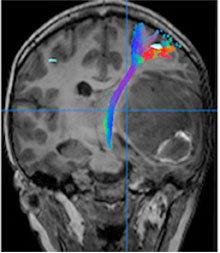 Advanced tractography imaging of a metastatic brain tumor
A patient with a metastatic brain tumor should be seen by a multidisciplinary team at a major medical center, where experts in a wide range of specialists can attend to the many needs of patient, caregivers, and other family members. While surgery or stereotactic radiation may be needed, we have found that our patients benefit from a more comprehensive approach. At the Weill Cornell Medicine Brain Metastases Clinic, our team includes not only neuro-oncologists, neurologists, and neurosurgeons but also social workers, neuropsychologists, pain management experts, social workers, and more — all dedicated to providing the most complete, compassionate care. Immunotherapy and Precision Oncology are also routinely employed so that targeted therapies can be offered when applicable.
Request an Appointment | Refer a Patient
Reviewed by: Rohan Ramakrishna, MD
Last reviewed/last updated: December 2020
Illustration by Thom Graves CMI