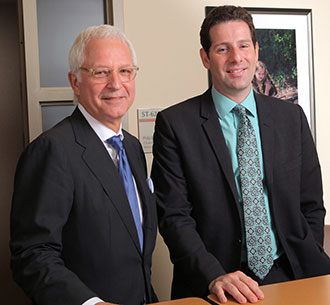 Pain is extremely complex and requires the participation of any number of specialists to address. That's why the Pain Program at the Weill Cornell Brain and Spine Center takes such a thorough, multidisciplinary approach to treating and alleviating pain.
Dr. Philip E. Stieg, Dr. Michael Kaplitt, and Dr. Jared Knopman work in partnership with WCM Pain Medicine as well as with the Spine Center and the Cerebrovascular Surgery service to ensure that each patient receives expert evaluation, accurate diagnosis, and the best treatment plan for alleviating or managing pain. The individualized treatment plan may include contributions from:
Neurologists
Interventional Neuroradiologists
Neurosurgeons
Physiatrists
Pain Management Specialists
Physical Therapist
Radiosurgery Neurosurgeons
Clinical Neuropsychologists

The team treats patients suffering from pain associated with chemotherapy, nerve injury or scarring, reflex sympathetic dystrophy (RSD), amputations, spinal cord injury, and other disorders. Treatment options include implanted spinal cord stimulators that deliver electrical impulses to relieve pain; intraspinal pumps (also called intrathecal pumps) that deliver drugs directly to the spinal cord;  and deep brain stimulation (DBS), a minimally invasive procedure that uses a neurotransmitter device — similar to a heart pacemaker — to deliver electrical pulses to the exact location in the brain that generates painful symptoms and blocks them.
Dr. Stieg, Dr. Kaplitt, and Dr. Knopman also treat pain associated with trigeminal neuralgia, hemifacial spasm, or other disorders of the cranial nerves (see more about our Facial Pain Program). When pain can be attributed to a spinal condition, the resources of the multidisciplinary Spine Center are available to evaluate and treat it (see more about the Back and Neck Pain Program). Our faculty also includes a Clinical Neuropsychologist, Amanda Sacks, Ph.D., who uses Cognitive Behavioral Therapy (CBT) to help patients manage pain.
Our multidisciplinary Pain Program is committed to treating the underlying condition, restoring mobility, and allowing patients to return to their daily activities. 
For more information about the Pain Program,  use our online form to request an appointment.