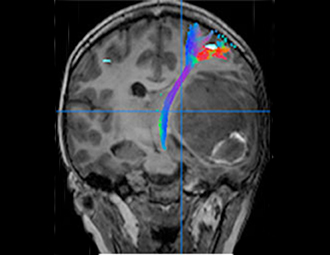 The Brain Metastases Clinic at the Weill Cornell Medicine Brain and Spine Center offers a multi-disciplinary approach to the treatment of metastatic brain tumors and leptomeningeal disease. While surgery, radiation, and chemotherapy are important aspects of brain metastases treatment, we have found that our patients benefit from access to holistic services that help treat the neurologic consequences of their disease. To that end, we have assembled a broad team to offer integrated care for our patients.
This approach means having access to a system that delivers comprehensive care to promote an individual's physical, psychological, and social well-being. It means access to nutritional counseling, clinical psychology services, acupuncture, massage therapy, yoga, pain management, and meditation training. It means access to group seminars and social workers who can assist with some of the practical problems facing patients and families with cancer. It means helping our patients achieve peace of mind.
We offer a central phone number (646-697-6387) to make it easier for patients to contact us. Our Program Coordinator will help get patients an initial appointment with the most appropriate of the providers in our program as well as coordinate appointments and smooth out any obstacles along the way. We welcome all patients, including those with a new diagnosis of brain metastasis and those with a previous diagnosis. Finally, though our program's namesake concerns brain metastases, many of our patients with other brain and spine tumors need similar services. We are happy to coordinate care for them as well.
We know that patients with complex conditions can be overwhelmed by the process of securing and following up on medical appointments. Our commitment is to integrate these services seamlessly into a patient's schedule. Please let us know how we can help.
Back to Brain Metastases Clinic More about Brain Cancer