Several factors influence the best treatment for a person with cerebral ischemia or the person who is having an ischemic cerebral stroke. Surgery is sometimes performed on an emergency basis. If a person with cerebral ischemia has complete blockage or severely narrowed arteries, surgery may be needed to avoid a stroke.
Whether the source of the blockage is in the internal carotid arteries or the vertebrobasilar system (consisting of the two vertebral arteries and the basilar artery) also informs the neurosurgeon. The internal carotid arteries supply the anterior (front) areas of the brain and the vertebral arteries supply the posterior (back) areas. The results of the blood and imaging tests will provide a neurosurgeon with the location of the blood-vessel blockage and how severely the blood flow is restricted. Addressing a block in the small, twisting arteries deep inside the brain requires a different approach than a blockage in the large carotid arteries in the neck.
If an individual has a moderately or severely narrowed neck (carotid) artery, a doctor may suggest a carotid endarterectomy. This preventive surgery clears carotid arteries of fatty deposits (atherosclerotic plaques) before another TIA or stroke can occur. Carotid endarterectomy is an open surgical procedure that's used to remove the blockage from the carotid artery. The surgeon makes a small incision in the neck, then carefully opens the carotid artery and removes the blockage, reconstructing the artery walls to ensure smooth blood flow. In some cases, the neurosurgeon may patch in part of a healthy blood vessel from the patient's leg or use a synthetic blood vessel to replace the damaged artery.
Vascular bypass surgery, or cerebral revascularization, provides a new blood supply that can help prevent strokes and TIAs. A neurosurgeon diverts blood from a "donor" vessel in the scalp or nearby muscles to the oxygen-starved brain. The brain is then able to produce new blood vessels — a process called angiogenesis — from the graft to take advantage of the new source of blood supply.
Endovascular neurosurgery is a specialized subset of Interventional Neuroradiology (INR). These advanced procedures are taking the place of older techniques that once required open brain surgery. Now, starting with just a small needle stick in an artery in the leg, our team of experts at the Weill Cornell Medicine Brain and Spine Center can routinely attack complex and challenging conditions like cerebral ischemia.
Endovascular repair uses tiny catheters that contain medication or miniature instruments to perform minimally invasive vascular procedures. Some types used to treat cerebral ischemia are: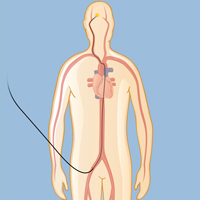 In mechanical embolectomy, a surgeon inserts a small plastic tube into an artery in the patient's upper leg and threads it under X-ray guidance into the blocked artery of the brain.
Carotid angioplasty, also called balloon angioplasty, is a minimally invasive procedure in which a small catheter is inserted into an artery in the groin or wrist and threaded up to the carotid artery. A tiny balloon on the tip of the catheter is then inflated, widening the artery at the spot where it's narrowed or blocked.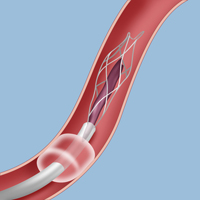 A neurosurgeon can aspirate the clot using a tiny device inserted inside the catheter.
Carotid-artery stenting involves the placement of a small self-expanding stent (tube) inside the narrowed artery. The wire-mesh stent is threaded up to the carotid artery from the groin or wrist and is expanded once it reaches the blockage. The stent holds the carotid artery open to a sufficient width to allow good blood flow to the brain. A stent is usually placed as part of a carotid angioplasty.
Weill Cornell Medicine neurosurgeons and interventional neuroradiologists achieved a complication rate of <1% for all carotid revascularization (carotid endarterectomy and carotid artery stenting) last year; amongst the lowest documented complications rates in the country.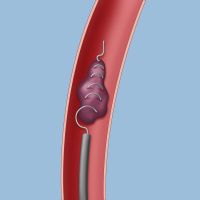 A retrieval device allows a neurosurgeon to remove a blood clot from the brain.
Mechanical embolectomy is an advanced, minimally invasive surgical treatment designed to remove a blockage in the blood vessel. Mechanical embolectomy devices may be used many hours after the onset of stroke symptoms in select patients, although each passing hour reduces the benefits of treatment while increasing its risks. 
In mechanical embolectomy, a surgeon inserts a microcatheter (a small plastic tube) into an artery in the patient's upper leg and threads it (under X-ray guidance) into the blocked artery of the brain. The surgeon then slips a device inside the plastic tube and advances it to the site of the clot to either aspirate it or retrieve it.
There are several devices that may be used for a mechanical embolectomy: Both aspiration devices and stent-retrievers (such as the Solitaire and the Trevo) are designed to remove the entire blood clot, rapidly restoring normal blood flow to the brain. (The first-ever mechanical embolectomy device was called the Concentric MERCI retriever, developed 15 years ago by Dr. Y. Pierre Gobin.)
The Weill Cornell Medicine Brain and Spine Center is proud of the world-class endovascular surgeons who make up the Interventional Neuroradiology Program, which is one of the few such programs in the world to offer a full team of specialists in this advanced discipline. Last year our physicians performed nearly 1,300 endovascular procedures, making our facility one of the highest volume centers in the country. In addition, our team continues to devise new ways to apply these minimally invasive techniques for their patients, leading a multitude of clinical trials, some of which are unique to Weill Cornell Medicine.
At the Weill Cornell Medicine Brain and Spine Center, our endovascular neurosurgeons and interventional neuroradiologists specialize in:
• Minimally invasive approaches to cerebrovascular conditions such as carotid disease, stroke, aneurysms, and AVMs
•  Embolization of subdural hematomas as an alternative to open surgery; a technique pioneered at Weill Cornell Medicine
•  Venous sinus stenting for pulsatile tinnitus and idiopathic intracranial hypertension (IIH)
• Pre-operative embolization to improve outcomes of surgery in brain tumors.
• Intra-arterial chemotherapy of tumors.
• Treatment of superficial vascular malformations of the face and neck.
Am I a candidate for an Interventional Neuroradiology (INR) procedure? 
A common question from patients is whether their condition can be treated with a minimally invasive endovascular procedure rather than open surgery. Although for many patients the answer is yes, this decision is always made on a case-by-case basis. Every individual's anatomy is unique, and certain patients may have variations that make minimally invasive procedures more difficult than traditional surgery. Every patient is treated by our team as an individual, and we will always recommend the approach that is best for that particular person.
The concept of individualized, team-based care is one that we hold sacred. When it comes to complex cerebrovascular disease, we have multiple specialists evaluate each case. Our cerebrovascular specialists meet weekly in a dedicated conference specifically designed for discussion of our patients' cases. This collaborative environment takes advantage of each doctors' experience and expertise and results in the safest and most efficient form of treatment for each patient — every time.  
If you are interested in finding out if you are a candidate for an INR procedure, or if you would like a second opinion on your diagnosis from our team of cerebrovascular and endovascular specialists, we would be happy to talk to you. Click here to upload your records and request a second opinion, or click here to request an appointment, either at our office or by video.
Whichever procedure is deemed appropriate, it should be performed in a major medical center with highly experienced neurosurgeons.  
Reviewed by: Dr. Jared Knopman
Last reviewed/updated: February 2021
Illustration by Thom Graves