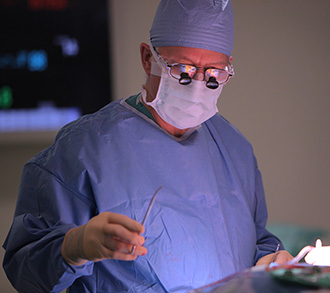 The Cerebrovascular Surgery Service at the Weill Cornell Medicine Brain and Spine Center is a world-class provider of treatment for aneurysms, arteriovenous malformations, carotid occlusions, trigeminal neuralgia, and other vascular conditions of the brain and spine. Our service combines expertise in minimally invasive surgical techniques with the advanced specialties of interventional neuroradiology and stereotactic radiosurgery, making us the go-to center for cerebrovascular disorders.
At Weill Cornell Medicine, world-renowned surgeons under the leadership of neurosurgeon-in-chief Philip Stieg, PhD, MD, utilize state-of-the-art diagnostic tests to provide a detailed treatment plan for each patient. Dr. Jared Knopman directs the cerebrovascular program, which utilizes advanced microsurgery, embolization, and other leading-edge treatments that have a proven track record of providing successful results. 
Our unique Interventional Neuroradiology Program, also directed by Dr. Knopman, performs many advanced procedures, including pre-operative embolization, to improve outcomes in cerebrovascular cases. Find out more about the Interventional Neuroradiology Program.
We also offer non-invasive stereotactic radiosurgery as an option for some cerebrovascular disorders. Under the direction of Dr. Susan Pannullo, the Stereotactic Radiosurgery Program offers highly focused radiation treatments using advanced linear accelerator (LINAC), CyberKnife, or Gamma Knife equipment. Find out more about the Stereotactic Radiosurgery Program.
For a patient with an aneurysm, arteriovenous malformation, cavernous malformation, trigeminal neuralgia, or other vascular disorder of the brain or spine, there is nowhere in New York where there is more compassionate, advanced care than at the Weill Cornell Medicine Brain and Spine Center.