November 25, 2013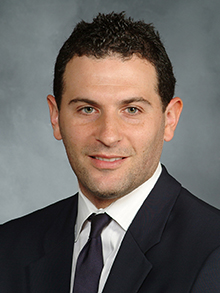 Dr. Jared Knopman of the Weill Cornell Brain and Spine Center has been named to the SuperDoctors list as 2013 "Rising Stars." This new list, first published in The New York Times Magazine on Sunday, November 24, 2013, was created to recognize doctors in practice for less than ten years, but who have already developed an outstanding reputation among their peers.
Dr. Knopman is a neurosurgeon and interventional neuroradiologist who specializes in cerebrovascular disorders, including both the open surgical and minimally invasive endovascular treatment of aneurysms, AVM's, brain tumors, and carotid occlusive disease. He has expertise in embolization of aneurysms and AVM's, carotid stenting/endarterectomy, and intra-arterial chemotherapy. He also performs spinal cord stimulation and microvascular decompression for chronic pain syndromes and trigeminal neuralgia. Dr. Knopman received an M.D. from Mount Sinai School of Medicine, where he was elected to the AOA honor society. More about Dr. Knopman
Dr. Philip Stieg, chairman of the Weill Cornell Brain and Spine Center, and all the faculty and staff, congratulate Dr. Knopman on being named to this list.