March 22, 2017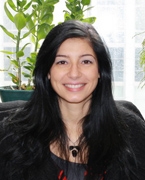 Roberta Marongiu, Ph.D., an assistant professor of neuroscience in Neurological Surgery and a researcher in Dr. Kaplitt's Molecular Neurosurgery Laboratory, has been selected to the prestigious Interstellar Initiative career development program. This program, co-sponsored by the New York Academy of Sciences and the Japan Agency for Medical Research and Development, is intended to cultivate and mentor promising young investigators from all over the world who are working in the fields of cancer, regenerative medicine, and neuroscience. Dr. Marongiu was one of only 16 young scientists accepted into the program.
The Interstellar Initiative started with a three-day conference at the New York Academy of Sciences in March, at which teams of young investigators worked with mentors to come up with solutions to research problems. Each team received funding to enhance their solutions, and updated proposals will be presented and refined at an August workshop. Proposals will then be prepared for submission for consideration to international funding agencies. During the Interstellar Initiative workshop, Dr. Marongiu's team was also awarded with the outstanding presentation/proposal prize in Neuroscience.
Dr. Marongiu obtained her Ph.D. in Medical Genetics and Neuroscience from University of Rome "La Sapienza," Italy and UCSD, San Diego. Her research focuses on AAV-gene delivery for motor and non-motor symptoms of Parkinson's disease, and she is particularly interested in understanding how sex differences influence the disease onset and course.
More about Dr. Marongiu | More about the Interstellar Initiative