March 7, 2016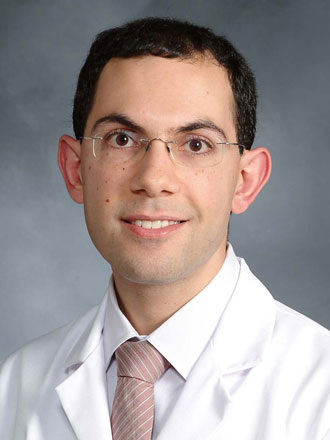 Sixth-year neurological surgery resident Nelson Moussazadeh, M.D., has been awarded a Charlie Kuntz scholar award for his paper "Epigenetic Profiling Reveals a Unique Histone Code in Chordoma." The award will be presented at the 2016 Annual Meeting of the Section on Disorders of the Spine and Peripheral Nerves (DSPN ) March 16-19 in Orlando.
The Charlie Kuntz scholar awards are presented each year to the top 30 neurosurgical residents or fellows for outstanding papers on spinal research. Dr. Moussazadeh's research, which he is conducting in Dr. Cameron Brennan' laboratory at Memorial Sloan Kettering, involves the nexus of epigenetics and genomics in the rare spinal tumor chordoma.
Dr. Moussazadeh has previously been named an NREF fellow for a project entitled "Genomic Characterization of Spinal Metastases and Paired Primary Tumors to Identify Patterns of Spinal Tropism and Clonal Evolution"  and has also been awarded two grants from the Chordoma Foundation for research in Dr Brennan's lab on chordoma epigenetics and for high-throughput drug discovery.