April 2, 2019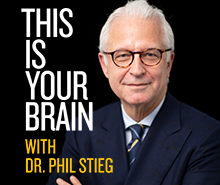 Dr. Philip Stieg, Director of the Weill Cornell Medicine Brain and Spine Center and Neurosurgeon-in-Chief of NewYork-Presbyterian/Weill Cornell Medical Center, has launched a new podcast called This Is Your Brain With Dr. Phil Stieg. Weekly episodes will delve into the mysteries and new discoveries about how the brain works, what can go wrong with it, and the most effective ways to keep it healthy. 
On the show, Dr. Stieg talks with leading medical experts in brain science as well as patients who share their stories of recovery. These conversations reveal both the medical science and the personal challenges of a wide variety of brain issues, including the emotional and physical impact of being diagnosed with a brain disorder. They provide a view into how patients forge ahead through the grueling path to healing—often coming to grips with a new sense of self—and how doctors and surgeons can help guide them along the path to recovery. 
Subscribe, rate, and review the podcast on Apple Podcasts and Spotify.
The initial episodes are a two-part conversation with Alissa Rubin, the New York Times journalist who suffered devastating injuries in a helicopter crash in 2013 while on assignment in Afghanistan.  Ms. Rubin and Dr. Stieg discuss not only the accident and her physical recovery, but also the emotional and cognitive implications of traumatic brain injuries. Future episodes will cover many aspects of the brain, including concussion, sleep apnea, anxiety, nutrition, addiction, and sex. In one upcoming episode Dr. Stieg will even cover miraculous awakenings from coma—and how to define what "awake" really means.
This Is Your Brain With Dr. Phil Stieg brings a down-to-earth approach to these conversations about the complicated human brain in all its wonder, and promises to help listeners make the best decisions about their brain health.
This Is Your Brain With Dr. Phil Stieg is now available on Apple Podcasts and Spotify, as well as at thisisyourbrain.com.