August 7, 2017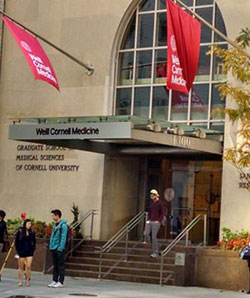 The Weill Cornell Medicine Brain and Spine Center is proud to announce the appointments of three new faculty members, who expand our already considerable offerings in the treatment of brain and spine disorders. These new faculty members will increase our strength at our main campus at Weill Cornell Medicine and NewYork-Presbyterian Hospital, at the new Weill Cornell Medicine Center for Comprehensive Spine Care, and at our growing practice at NewYork-Presbyterian/Queens.

Babacar Cisse, MD, PhD, is an award-winning neurosurgeon with special expertise in brain and spinal tumors. He utilizes advanced neuro-navigation, ultrasound, imaging, motor and speech mapping, and endoscopic and minimally invasive techniques. Dr. Cisse's specialties include glioblastoma multiforme and other primary and metastatic brain and spine tumors, acoustic neuromas, and pituitary tumors. He sees patients at 1305 York Avenue, 9th Floor, New York, NY 10021, and can be reached at 646-962-3389. More about Dr. Cisse

Michael Virk, MD, PhD, is a widely published neurosurgeon with specialty training in minimally invasive and complex surgery for a wide variety of spine conditions, using advanced intra-operative image guidance and neuro-navigation. He joins the team at the Center for Comprehensive Spine Care. Dr. Virk's specialties include scoliosis, spinal tumors, trauma, degenerative disease, radiculopathy, herniated discs, and spinal stenosis. He sees patients at the Weill Cornell Medicine Center for Comprehensive Spine Care at 240 East 59th Street, 2nd Floor, New York, NY 10022, and he can be reached at 646-962-3388. More about Dr. Virk
Srikanth Boddu, MD, MSc, is an Interventional Neuroradiologist who specializes in minimally invasive endovascular treatments for cerebrovascular and spinal disorders, including aneurysm, arteriovenous malformations, fistula, and tumor embolization. Dr. Boddu's specialties include vertebroplasty/kyphoplasty for spinal compression fractures, venous sinus stenting for pseudotumor cerebri and pulsatile tinnitus, and thrombectomy for stroke. He sees patients at NewYork-Presbyterian/Queens at 56-45 Main Street, Flushing, NY 11355, as well as at our upper east side campus. He can be reached at 718-303-3739. More about Dr. Boddu
We welcome these new faculty members to the team, and look forward to working together in our mission to provide high-quality, compassionate care to patients throughout the New York area.