"He Gave Me a Second Chance at Life"
You are here
"He Gave Me a Second Chance at Life"
Nicole Scherer of Bellmore, New York, was 25 years old and eager to start her career as a newly minted lawyer. Other than the occasional migraine, she was doing fine — and much like the other 3 million Americans who suffer from migraines, she attributed them to something benign: sinus problems, low blood sugar, dehydration, or her diet. At first she tried to ease her migraines by hydrating herself more and changing her diet, but her efforts were for naught; not only did the migraines keep coming, but her condition started to become more perilous.
Nicole started having episodes in which she would briefly lose vision in her right eye. It seemed to happen when she would exert herself, and thankfully it was not permanent — her vision would slowly return "like a veil being lifted" — but it certainly concerned her more than the migraines had.  
After finding an optometrist who took her insurance, Nicole had an exam with surprising results — the doctor had discovered optic nerve swelling that was the likely reason for her vision problems. It could be several things, he told her, including a brain tumor, so he strongly recommended that she see a neuro-ophthalmologist as soon as possible.
Nicole was petrified — "I was 25 years old; I had no idea! I had just become an attorney, I thought I was going to die, and I didn't know what was wrong!" With that, Nicole's search for a neuro-ophthalmologist began.
Although she made an appointment for just three days away, her symptoms had worsened by the time she arrived at the neuro-ophthalmologist. In addition to her periodic loss of vision Nicole developed a ringing in her ears and could no longer maintain her balance. Immediately after the neuro-ophthalmologist visit, her father took her to the nearest emergency room.
Nicole saw several different doctors in the ER, with still no definitive answers. It was a spinal tap that finally resulted in a diagnosis: pseudotumor cerebri.
Pseudotumor cerebri, or idiopathic intracranial hypertension (IIH), is a disorder characterized by increased pressure in the fluid surrounding the brain. It's unknown what causes it, but it's most commonly diagnosed in young women who are overweight. It's also associated with aspartame intake and high doses of vitamin D. IIH is often called "pseudotumor cerebri" because the symptoms can mimic those of an actual brain tumor. The good news is that it's not a tumor, but it can still be debilitating.
Nicole's diagnosis came with its own complications. She developed a "post-tap" headache from the spinal tap that was so severe she couldn't work. She recalls how she felt, saying, "I couldn't work, I couldn't see, and it felt like I had a vacuum up my nose."
Doctors prescribed Diamox to help keep her vision from worsening — the drug can be effective in some patients but in others it causes intolerable side effects. In Nicole's case it caused severe nausea and she couldn't keep any food down at all. Incapacitated from her medication, Nicole was starting to despair of ever feeling better.
A pivotal conversation between Nicole's mother and uncle changed everything. If Nicole had cancer, her uncle said, they would be in search of the oncologist in the world.  If it had been an actual brain tumor, they'd be looking for the best brain tumor specialist.  Now that they knew what the condition was, he said, "you need to find the best in what she has."
Her mother dove into research with this one goal in mind, going online and speaking with everyone who would talk to her about Nicole's condition. Her research and her conversations all led to the same conclusion: Dr. Athos Patsalides was the best in IIH.
When Nicole's mother called Dr. Patsalides' office at nearby Weill Cornell Medicine, she learned that he was conducting a clinical trial approved by the FDA to test the safety and efficacy of a new procedure called venous sinus stenting. (The results of that trial have since been published, and Dr. Patsalides now routinely performs the procedure to relieve both IIH and pulsatile tinnitus. Download the published article.) If she met the trial criteria and were willing to take part in it, Nicole might benefit from this new procedure.
In what she remembers as being in stark contrast to everything she had been through before, Nicole felt at peace during her first meeting with Dr. Patsalides.  "The entire time I was with him, I felt nothing but safe," she recalls. "All my questions were answered and I felt extremely comfortable. I've never received medical care like that in my life."
Nicole spent seven hours meeting with Dr. Patsalides and Dr. Marc Dinkin, the neuro-ophthalmologist conducting the trial with Dr. Patsalides. Nicole finally felt as if she had options, thinking, "It's a really indescribable feeling to be in that much pain and not know what's wrong, or know if you're ever going to be okay. I put my life in their hands."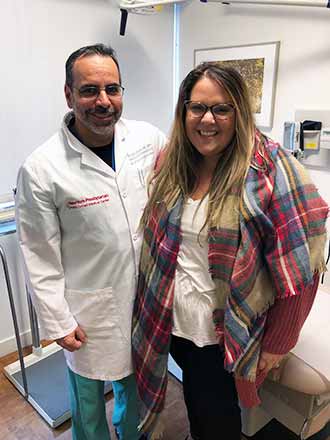 As Dr. Patsalides and Dr. Dinkin explained, the procedure was designed to relieve a condition called venous sinus stenosis — a narrowing in one or more of the large veins of the brain — that was associated with increased cranial pressure. In many patients, relieving the stenosis resolved their painful symptoms. Nicole appeared to be a good candidate for the procedure, in which a stent would be inserted into the narrowed vein, widening it and relieving the pressure. Her surgery was scheduled for the following week.
Nicole was awake for the first hour of the procedure, as Dr. Patsalides confirmed the stenosis. That involved inserting a catheter in her thigh, which she recalls as the only uncomfortable part of the whole surgery. Dr. Patsalides used the catheter to thread a tiny tool up into her brain to confirm the extent of the stenosis. As Dr. Patsalides went off to tell her parents that the procedure was a go, the medical team placed Nicole under anesthesia. The next thing she remembers is waking up in the surgical ICU.
The surgery was a success — Nicole woke up with a slight headache and some pulsing from the stent, but the ringing in her ears was gone and her vision was fine. After two days in the hospital she was well enough to go home. She felt a complete contrast to how she'd felt before, saying, "I had full vision, didn't have any headaches, or ringing in my ears." She stayed home for a week, was weaned off the Diamox, and finally returned to the new job she'd had to leave so unexpectedly — all with the support of a caring boss who saw great potential in her.
Nicole empathizes with anyone undergoing similar ordeals. She says to anyone going through it, "I know you must be scared… and I know that you must be in pain… but I also know that if you put your faith and your life in Dr. Patsalides's hands, you won't regret it. He gave me a second chance at life."
More about IIH/Pseudotumor Cerebri
More about venous sinus stenting